'Love Letter to Brooklyn'
Momofuku Noodle Bar
David Chang's flagship restaurant Momofuku Noodle Bar doesn't need much of an introduction. The low profile restaurant, located in the East Village of Manhattan, quickly established its self as an
essential NY restaurant
since opening in 2004. Since that time Chang has built an empire out of the momofuku brand, and even though we were staying in Brooklyn we had to hop the three trains to get there.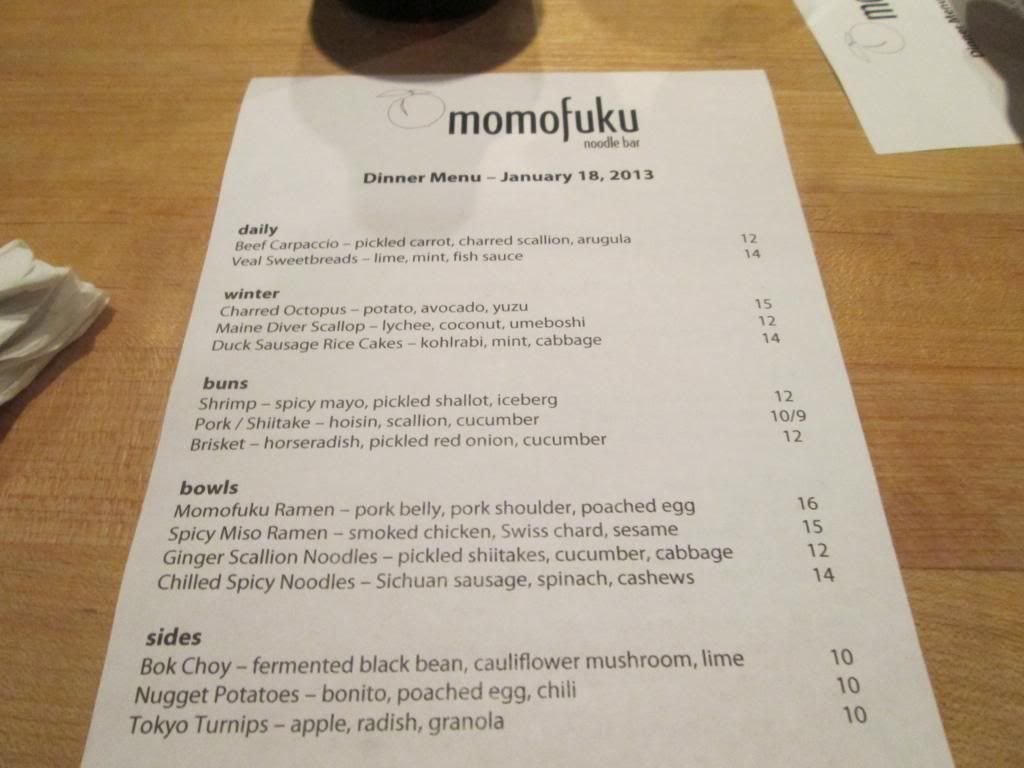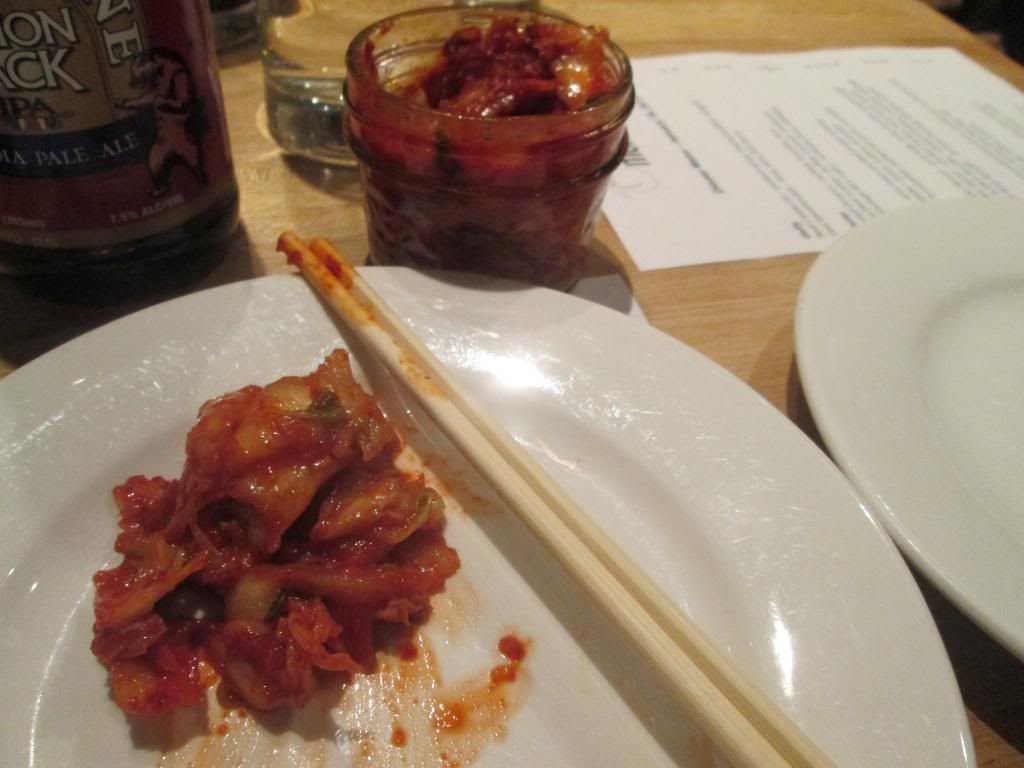 Momofuku Kimchi
I have made the Momofuku Kimchi from Lucky Peach, and while my version was not nearly as good as this one, you could taste the similarities. By far the best kimchi I've ever had, but I admit I am not an expert in this area.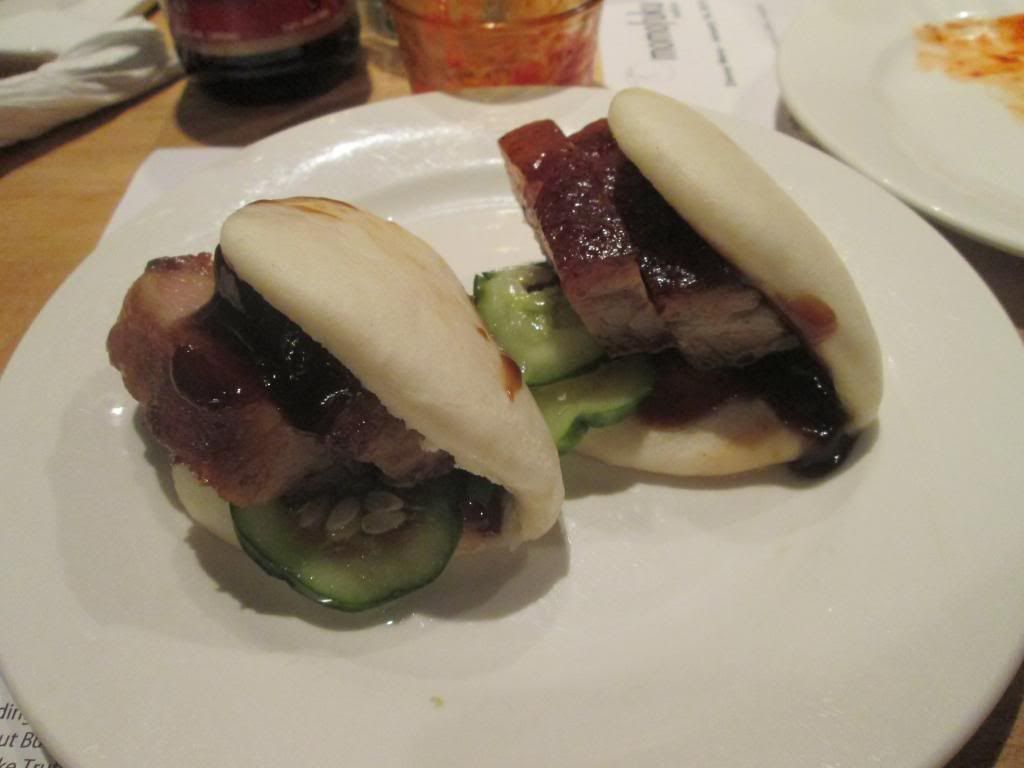 Pork Buns
Before we even stepped foot onto the plane bound for NYC, we had heard the pork buns are not to be missed. Well that is an understatement. If you have never had these you probably need to go ahead and book your flight.
Octopus
This was on the snack board, and I have a hard time passing up octopus these days.
City House
has made me fall in love with the eight arm sea monsters, and I enjoy seeing how other chefs approach this seeming unfamiliar seafood item.
Pig Tails with Pickled Pears
This was the special for the night, and who can say no to pig tails. In this day and age of nose to tail you don't see tail on the menu all too often. So when it shows up as a special, it always needs to be ordered.
Momofuku Ramen
The signature dish of the noodle bar is shōyu style ramen. The broth is made with kombu, Benton's bacon, dried mushrooms, and scallions. The noodles had perfect chew and the layered flavors in the broth really shine.
Strong Place
Little Neck Clams
A dozen clams why not
Brooklyn Social
Brooklyn Social has been serving up carefully crafted pre-prohibition style cocktails since 2004 and the folks in Carroll Gardens helped start a trend that has swept all over the country.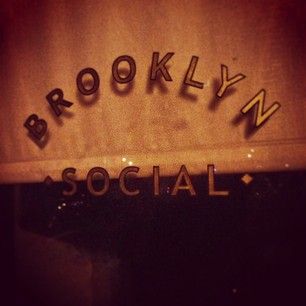 The Brooklyn and The Reposto
Bar Great Harry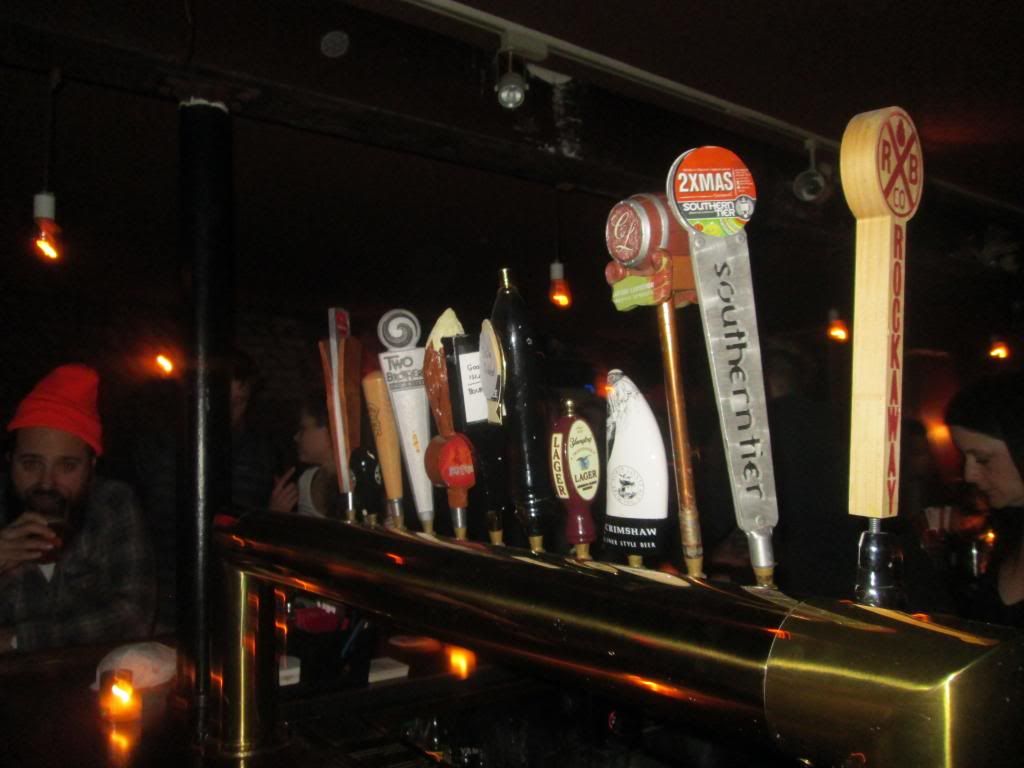 This is a true beer lovers bar. With 21 rotating taps this place has something for everyone. The only disappointment was that they had just run out of Breckenridge Lucky U IPA w/ Pineapple and Habanero. I did get a chance to have three beers I had never had before.
Uinta Dubhe Imperial Black IPA
Sly Fox Odyssey Imperial IPA
Barrier Submersion Un-Imperial IPA
The Local: Boat Bar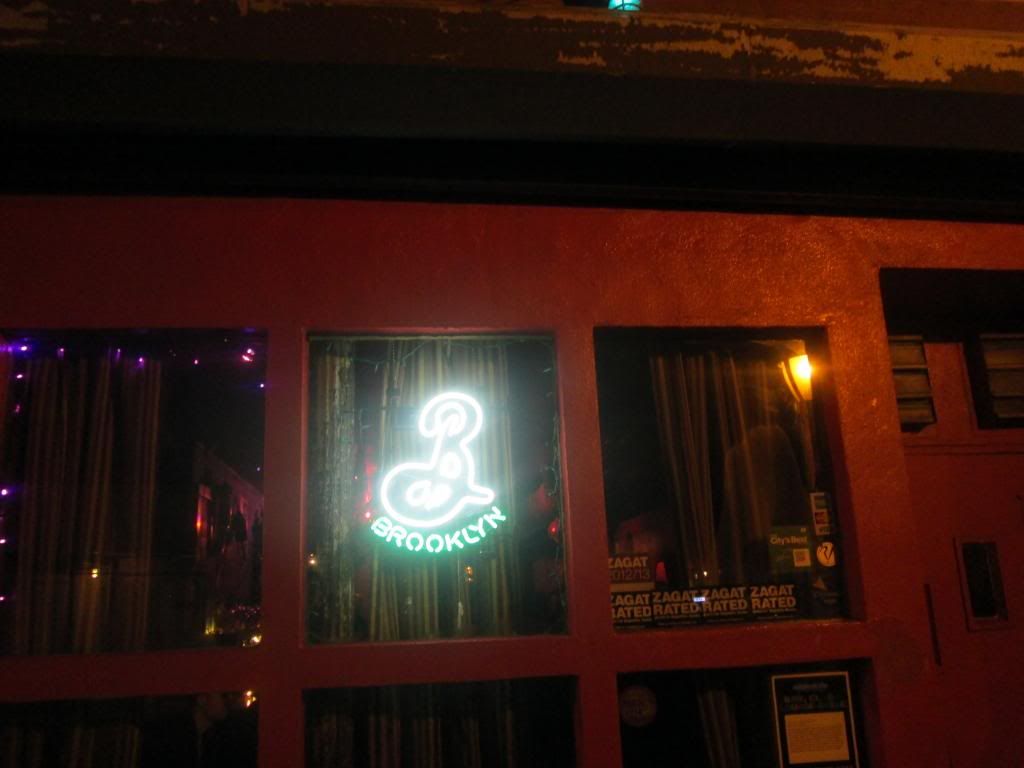 If you live in Brooklyn, you have a local. Basically defined as your local bar, or the one that is about a block away. Boat Bar is the local of my friend Jamie, and we got to hang here a couple of times. It's a great little bar with an original sit down style Ms. Pacman and a rocking jukebox. With great beers on tap you can't go wrong.
Frankies Spuntino
I first learned of Frankies Spuntino from their cookbook
Frankies Kitchen Companion & Cooking Manual
. Reading through the pages of antipasti, and Sunday Sauce made this place a must visit on our trip.
Cured Meats - Prosciutto di Parma, Spicy Capicola, Spicy Soppressata, Sweet Soppressata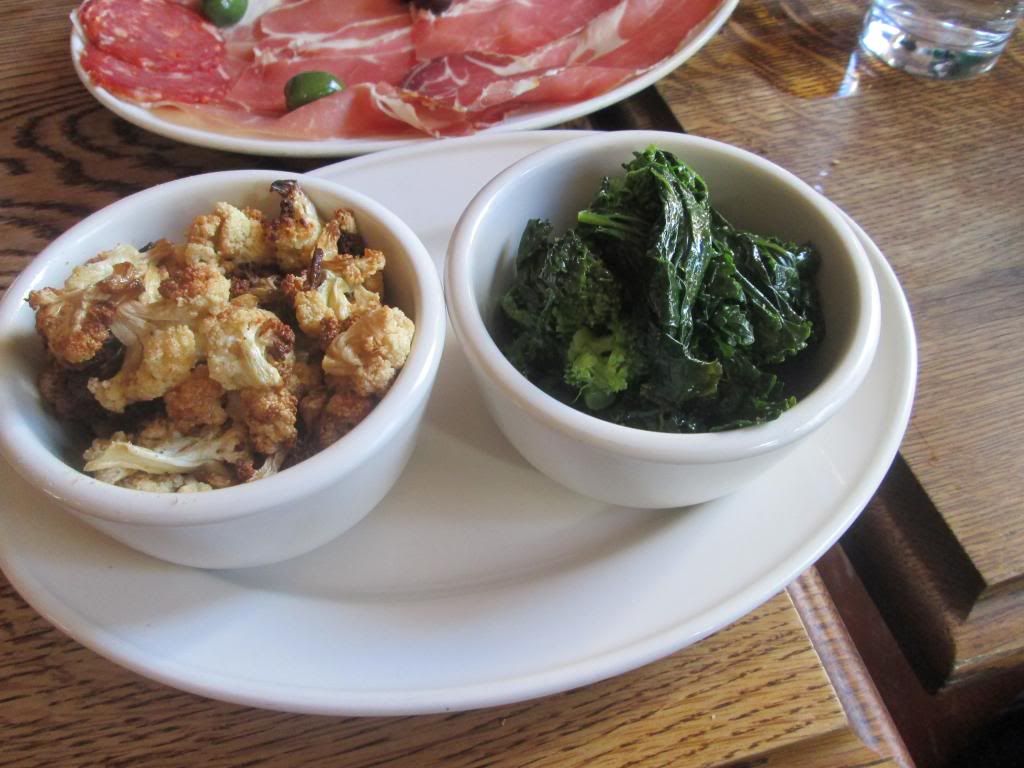 Vegetable Antipasti - Cauliflower & Broccoli Rabe
French Toast & Lancaster County Syrup with Thick Cut Bacon
Cavatelli, Sage Butter & Spicy Sausage
This was the crown jewel of our meal. The housemade pasta was cooked perfectly, and the spicy sausage may be the best sausage that I have ever eaten (fyi I've eaten a lot of sausage).
G Esposito & Sons
My wife was in Brooklyn last year and stumbled upon this place. She brought me back a stick of hot sopressata, and it was the best cured meat that I have ever had. So of course I had to get there and get three of them.
Hot and Sweet Sopressata hangs from the ceiling.
Nothing like getting greeted by a pig.
Pok Pok
I first heard of Andy Ricker's Pok Pok when he won a James Beard Award for best chef Northwest in 2011. A quick glance at the menu, and I knew I had to one day visit this place. There is simply no one else doing this Northern Thai cuisine with the quality of ingredients that Pok Pok uses. Lucky for me in 2012 he opened an outpost of Pok Pok in the Columbia Waterfront District in Brooklyn. Now before I went I knew there was the potential of a long wait, and that potential was met with a 3 hour wait. However, once we walked in the door the smells coming from that kitchen were intoxicating.
Paypaya Pok Pok - the name sake of the restaurant. This dish is a classic of Thailand, and it hits you with the sweet, spicy, and sour combination that you don't often come across.
Phat Khanaeng - oh Brussels sprouts how I love you. I've often said that I don't know how Brussels sprouts got such a bad name. Maybe it was because our moms were not making them with Thai chilies, garlic, oyster sauce, soy sauce and fish sauce.
Ike's Vietnamese Fish Sauce Wings - one of the signature dishes of Pok Pok. Whenever I would see wings on a Thai restaurant menu, I just assumed that it was a western bastardization of the menu. Fish sauce wings seem to fit the mold a little more, and these things were incredible. I initially thought that the fish sauce may make for a really pungent flavor, but again the balance of flavors was remarkable. When Mr. Ricker opens
Whiskey Soda Lounge in Brooklyn
, you can go for just the wings and skip the wait.
Da Chom's Laap Meuang
I was just recently introduced to laap by BP when we made a trip to King Market. While their version is very authentic, the Pok Pok version was bursting with flavor. Paired with some sticky rice and a plate full of native herbs, this dish was one of our favorites.
Plaa Neung Manao - steamed branzino in a chili lime sauce. The sauce on this dish was amazing, and the perfectly steamed fish just melted in my mouth.
Muu Kham Waan - pork collar? oh yeah. The pork collar is not a common American cut of pork. It comes from the neck region near the shoulder. For you comp bbq cookers, you may remember when it caused a bit of a
controversy
.
This charcoal grilled pork neck was the highlight for me personally. The tender pork slices accompanied by the chili/garlic sauce was one of the best pieces of pork that I have ever tasted.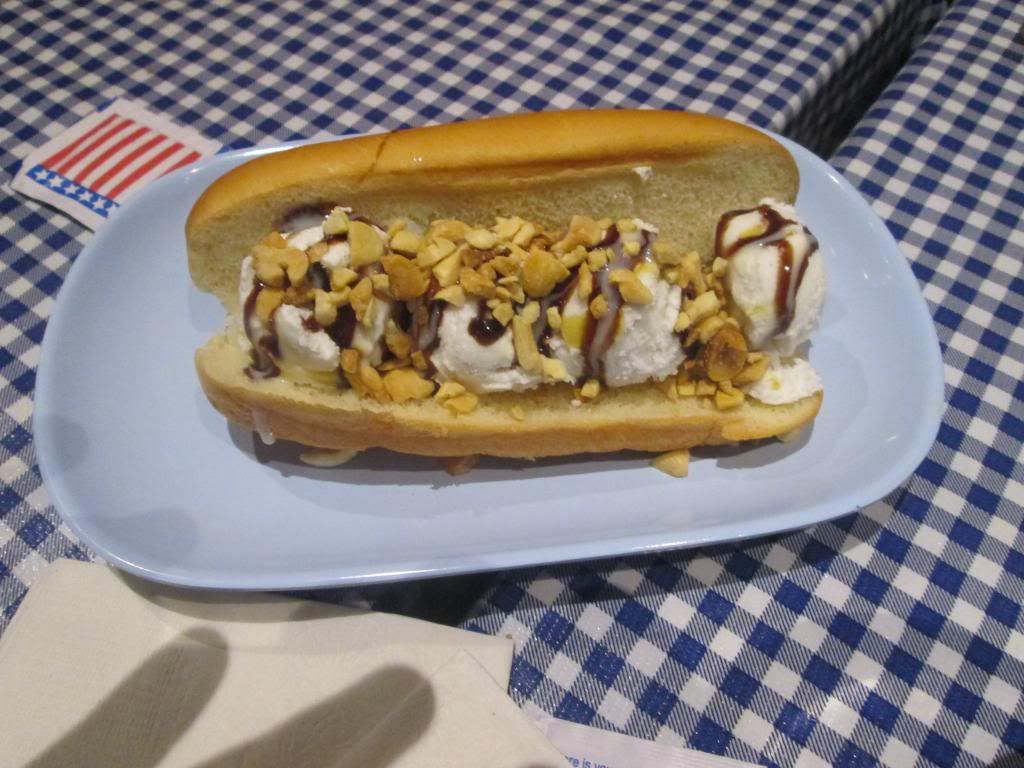 Thai-Style Ice Cream Sandwich - I've never been to Thailand, but apparently these things are just about everywhere. It was a perfect way to end a great meal.
Roberta's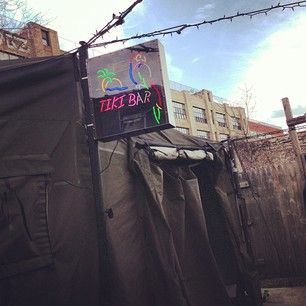 An Army tent with a fully stocked bar and wood burning furnace inside. Prefect setup for waiting on a table.
Beef Tongue with fingerling potatoes and eggs. I'm a sucker for offal and eggs.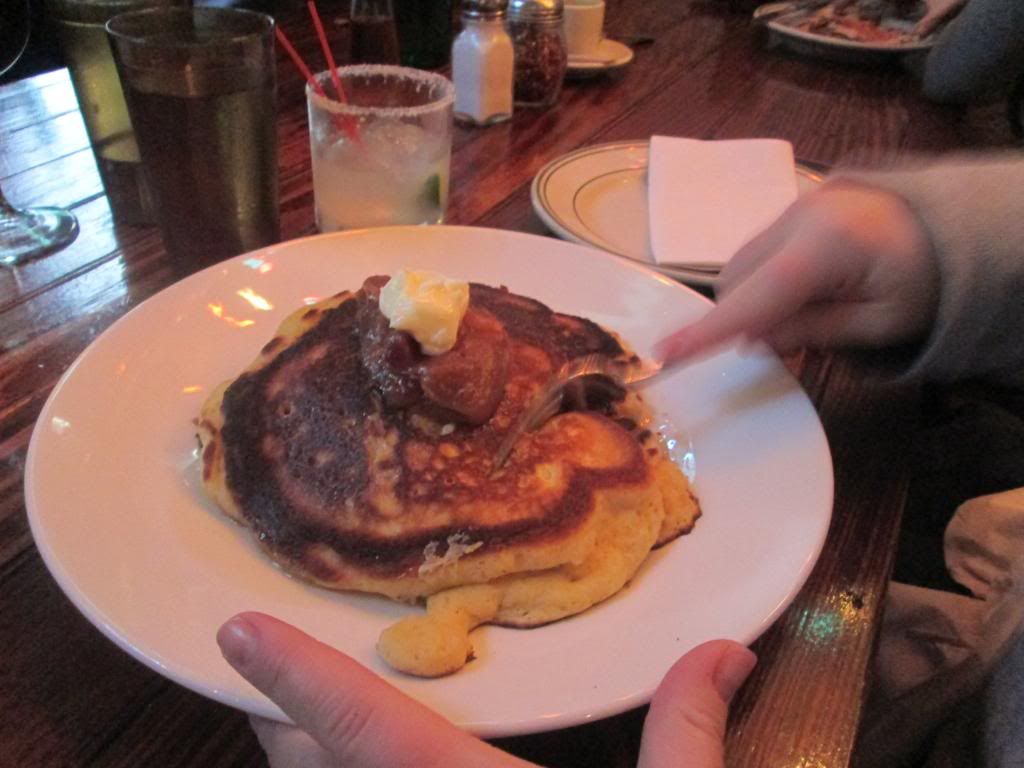 Pancakes with Apple Butter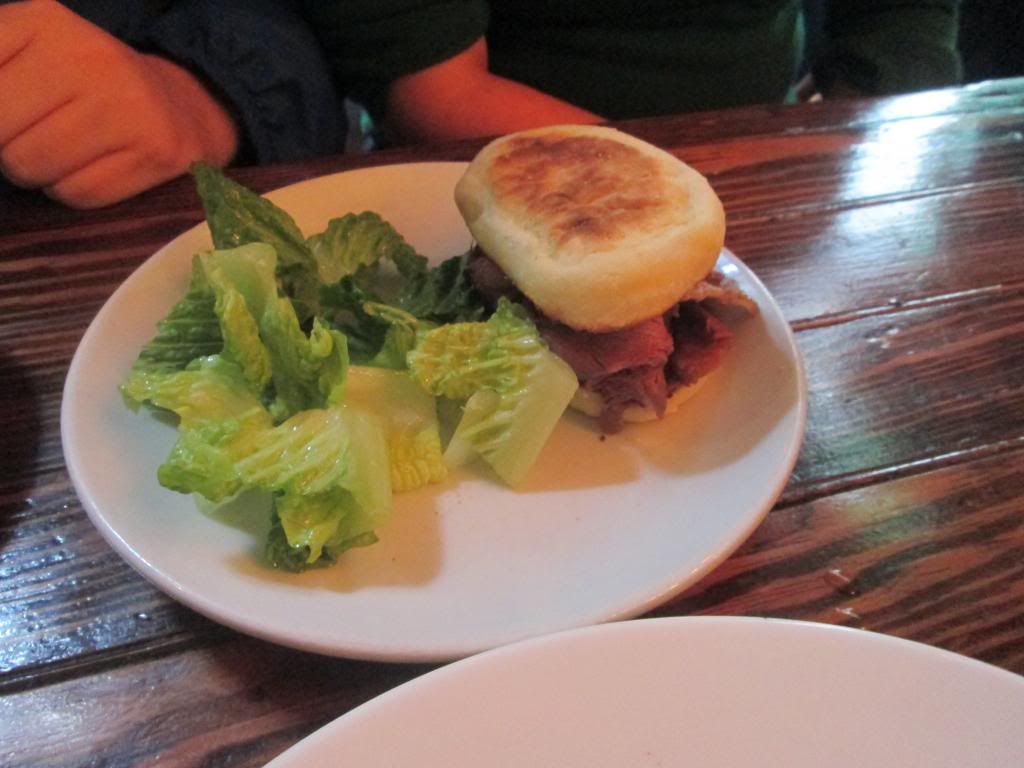 Duck Breast Sandwich on an English Muffin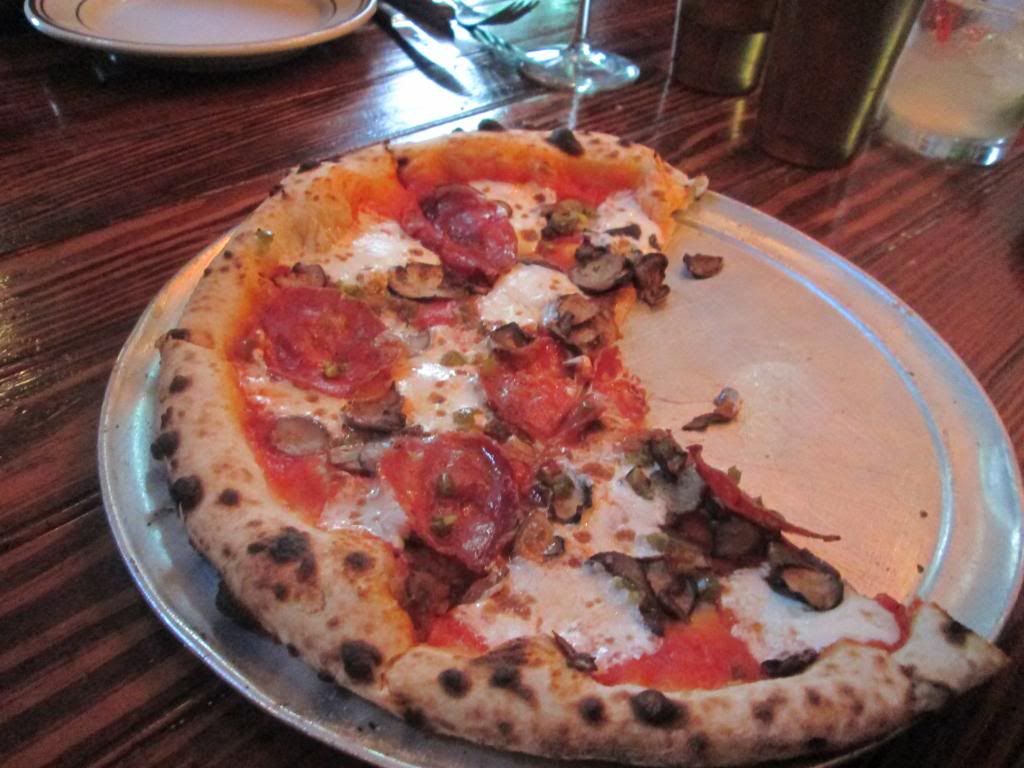 Axl Rosenberg
The Bee Sting - maybe the best pizza of all time. tomato, mozzarella, sopressata, chili, and honey
Franny's
Although Franny's has been around for several years, it wasn't on my radar until I started doing some research on the Brooklyn food scene. The name kept popping up over and over so I knew it was a must visit. It also happened to be my Brooklynite friend's favorite restaurant in the borough. It was also nice to see that Alex Raij gave it a nice recommendation in the new book
Where Chef's Eat
.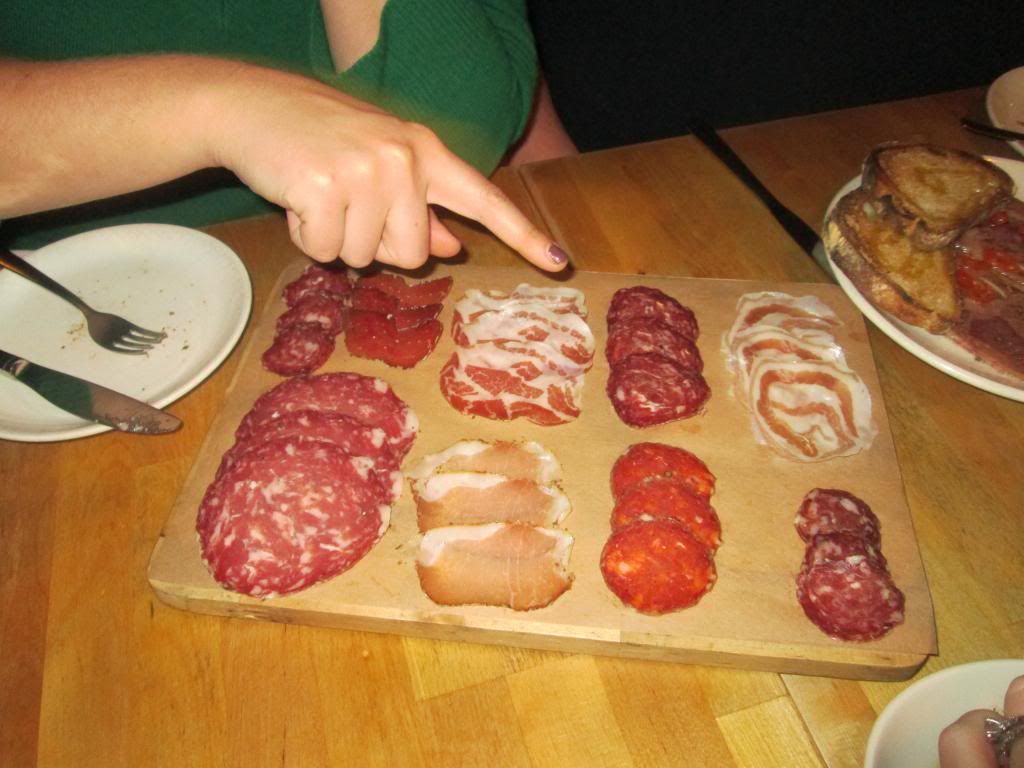 Sopressata, Spicy Salami, Finocchiona, Mortadella di Fegato, Lonza, Coppa, Pancetta - can you tell that we dig cured meats?
Wood Roasted Pork Sausage with Broccoli - housemade sausage. yes please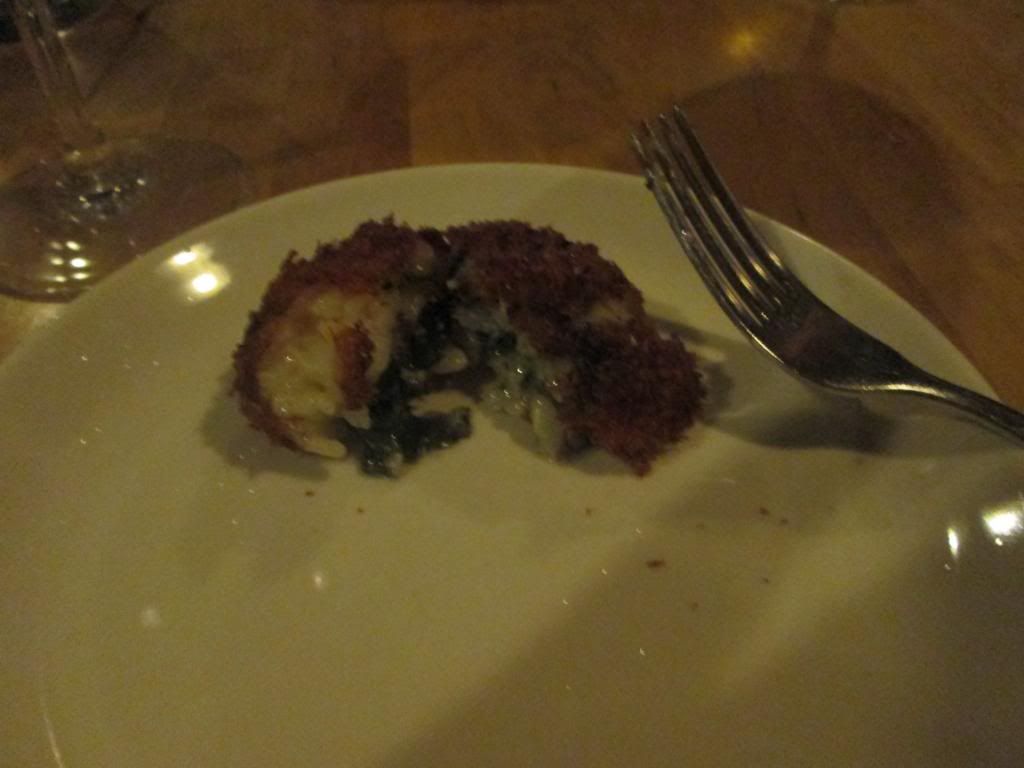 Arancini with Spinach, Lardo and Caciocavallo - you know if there is lardo in it that it has to be good.
Mafalde with Duck Ragu, Mushrooms and Pecorino Romano - it's hard to beat housemade pasta with a duck ragu.
Pork Cheek and Beef Tongue Terrine - when I saw this on the menu, I knew that I had to order it. Turns out it was so good that we ordered two.
Clam Pizza - one of their signature pizzas.
Sausage Pizza
Franny's was probably the best overall dining experience that we had. From the service to all the great food, it was just a great visit.
Shake Shack
It is basically the East Coast version of In/Out. While it may not have the cult following of In/Out, it is beginning to rival it. Now just for fairness sake, I have only eaten at In/Out once, and now Shake Shack once, but I much more preferred the east coast style. The burger was cooked perfectly, and the flavor was fantastic. For me this has to be the best fast food style burger going.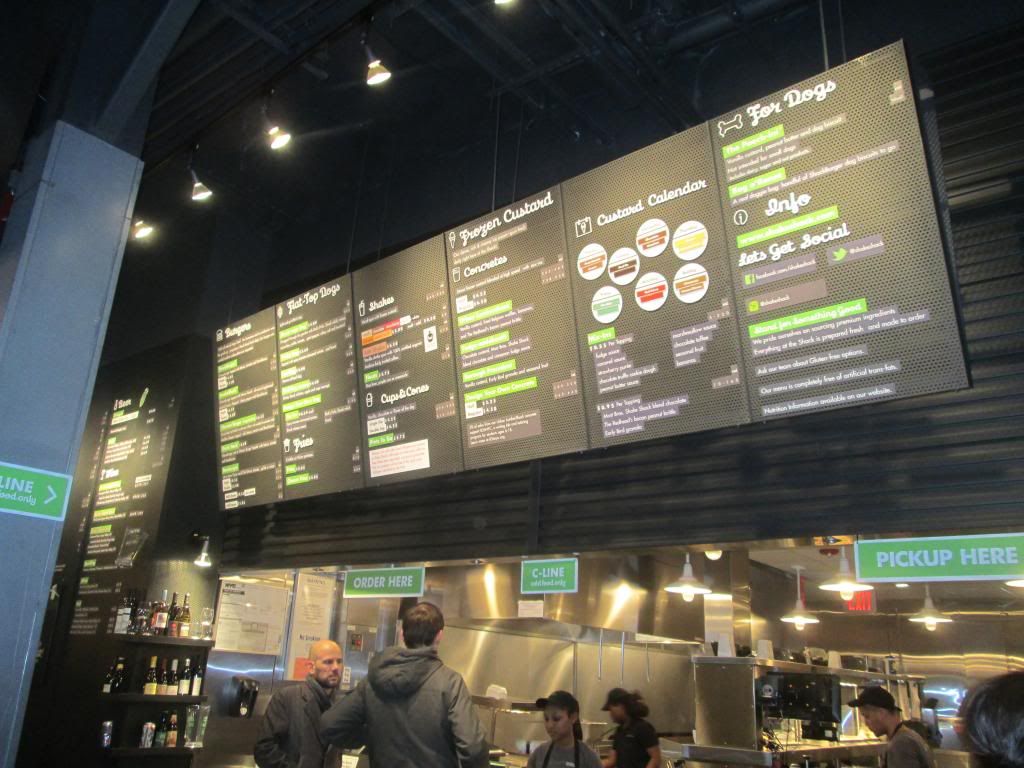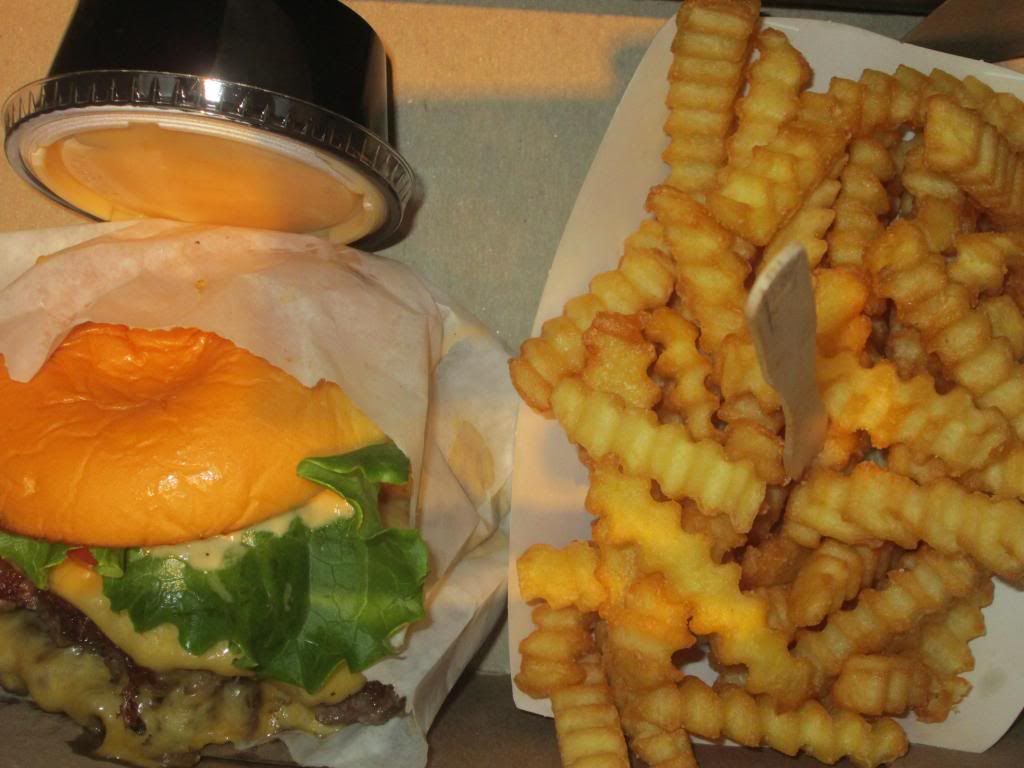 num pang
Our last stop on the F train to conclude our eating adventure was the sandwich shop num pang. With two locations in the city (a third on the way), this sandwich shop a garnered quite a following in just the few years that it has been open. As you can see, if you blinked walking down the street you might miss this place, but more than likely you would run into the line of people waiting to get their hands on one of these sandwiches.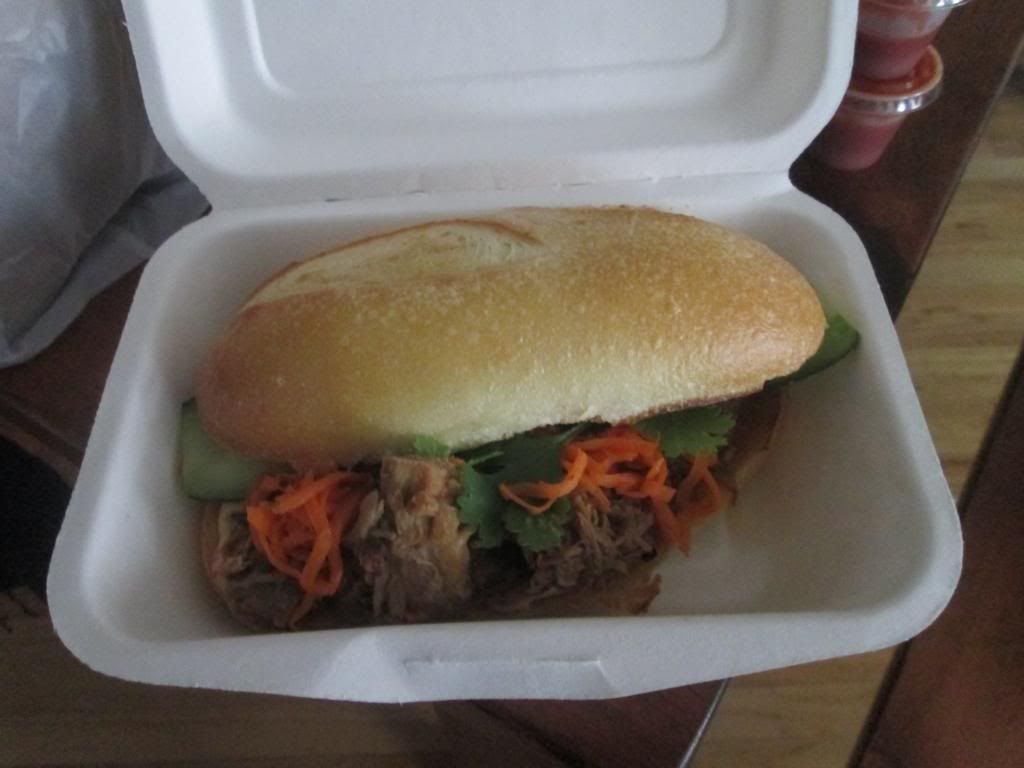 Pulled Duroc Pork sandwich in the style of a banh mi. The banh mi is a happening sandwich these days. It seems everyone has been inspired by the Vietnamese street food. This version was traditional with the toppings and kicked up with the duroc pork. The fresh baked bread had a nice crunch and a soft bite. While I really prefer the most traditional of banh mi, this version is hard to turn down. Add to that the rooster sauce that comes as a standard condiment, and you have a pretty great sandwich.