Round Two of Homemade Chicken Pot Pie on the Big Green Egg
Back in December of 2006, we tried the
first pot pie
on the Egg. This time, it all started with homemade crusts - my wife's cream cheese and butter crust (minus any sugar, plus a little extra butter and salt) - pressed into the cast iron skillet.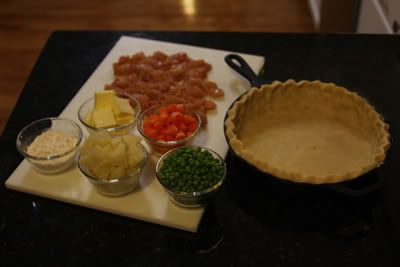 1. Cut roughly a pound of boneless skinless chicken breast into small chunks and season it with
Smokin' Guns Hot Rub
.
2. Place the chicken in a large saucepan along with sliced potatoes, chopped carrots and frozen green peas - you could add celery or other veggies here if you want to. Cover the chicken and vegetables with water and boil the mixture for 15 minutes. Drain the mixture in a colander and pour it inside the bottom crust in the cast iron skillet.
3. In the same saucepan, melt 6 to 8 tablespoons of butter with 2 to 3 cloves of finely chopped garlic. Add about 1/3 cup of flour and your favorite seasonings - a little salt, pepper and seasoned salt. Stir in one can of chicken broth, one can of cream of chicken soup and 2/3 cup of whole milk (add slowly and stir quickly).
4. Pour the liquid over the chicken and vegetables in the cast iron skillet and cover the dish with the top crust. Seal up the edges and cut a few steam slits. Cook the pot pie in the Big Green Egg for 25 to 30 minutes around 425 degrees.
In this round, the consistency inside the pie was excellent - very thick and creamy. Using the homemade crusts made a huge difference and the potatoes were a great addition.