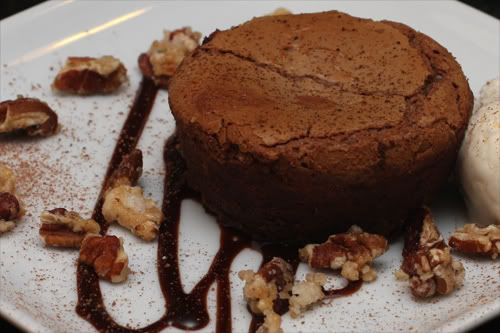 Molten Chocolate Lava Cakes with Candied Pecans
What You Need:
- 8 ceramic ramekins (generously buttered and dusted with cocoa)
- 8 ounces of chocolate (6 of milk chocolate, 2 of semi-sweet)
- 1/2 cup of pecans
- 3/4 cup of unsalted butter
- 3 eggs and 3 additional egg yolks
- 3/4 cup of all-purpose flour
- 3/4 cup of white sugar (for the cake)
- 1/4 to 1/2 cup of white sugar (for the pecans)
What You Do:
1. Melt the chocolate and butter in a metal bowl over boiling water in a medium saucepan, sirring constantly. When the two are well-combined and fully melted, remove the bowl from the heat and set the chocolate aside to cool to room temperature.
2. Mix together the whole eggs, egg yolks and sugar with an electric mixer for about 3 minutes - until the mixture is firm like cake batter. Add in the flour and mix for another 3 minutes then add in the melted chocolate-butter and mix for 3 minutes more. Scrape down the sides as needed. It has to be very well mixed!
3. Use a spatula to distribute the batter into the prepared ramekins and place them in the refrigerator for at least 1 hour.
4. While the cake batter cools, candy your pecans with the sugar in a saucepan and leave them to cool on parchment paper.
5. To cook the cakes, set your oven / Big Green Egg and Guru to 475 degrees. Bake the cakes on a place setter or cookie sheet for 12 to 14 minutes. The top will get puffy and the cake should only slightly jiggle in the center. Serve the cakes as soon as they are cool enough to handle. Top each cake with the candied pecans along with whipped cream or chocolate sauce or cocoa powder or vanilla ice cream or all of the above.