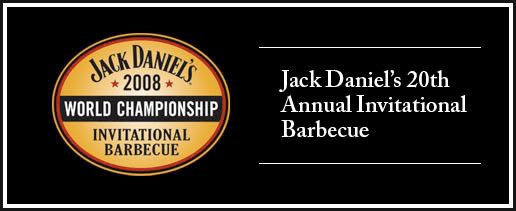 The 20th Annual Jack Daniel's World Championship Invitational Barbecue Contest
takes place on October 24-25 in Lynchburg, TN. Today, they held the "draw" that determines which teams will get an invitation. To get into the "draw" you must first be a Grand Champion at a state qualifying event. Some states only have one contest and its winners are automatic qualifiers. In states with more than one qualifying competition, only one champion from that state is chosen - literally, by having their name "drawn" from a hat. You can get an automatic bid though by winning 7 qualifying events in one year, winning
Memphis in May
, winning the
American Royal Open
(over 500 teams) or winning the
Houston Livestock Show and Rodeo Barbecue
competition. Lastly, the newest way to get in is by being a
10 year qualifier
.
This is the most sought after invitation in the bbq community, and The Jack is the premier contest in the bbq world. Congrats to all that got their name called today.
Here is a list of the teams that will be participating in the 20th Annual "Jack"
. I can't wait to cook in this event one day. Until then, I will just have to be a spectator.