Last Thursday the Mrs. and I loaded up the trailer and headed west to North Little Rock for the USA Barbecue Championship. This was the first time that Team Ulika had ventured outside of Tennessee for a bbq competition, and of course we could not leave town without incident; I had to go to the trailer shop twice before we left town just to get the lights working. Once we were riding legal, the 5.5 hour trip seemed to take forever. It doesn't help that the drive is exceedingly boring from Nashville to Memphis, and once you cross over into Arkansas, the roads just turn to a bumpy mess. But we finally rolled into town on Thursday afternoon and got a nice spot underneath an old railroad bridge. A majority of the teams were already setup when we arrived, but we made it into our spot without a problem. We felt really lucky having an end spot after seeing how some of the teams were cramped in together.
After getting the trailer unloaded and the
new banners hung
, we ventured across the river to downtown Little Rock for a deep dish pie at Gusano's Pizzeria. The pizza was just okay and it made me realize that I should not keep trying to order a deep dish pizza outside of the Chicago city limits. Since it was not much to speak of, don't expect a
Friday Night Slice
review.
After dinner, I headed back to the trailer to trim up the chicken. This process takes way longer than I would like to admit, but I am happy with the final product after it is over.
Friday rolled around and the meat was inspected, butts and briskets injected, and other meaningless task were fulfilled. BP and Peter arrived at about 2pm as did our neighbors, TNT Smokers. We cooked up a few sausages and dogs on the egg and then called it a night.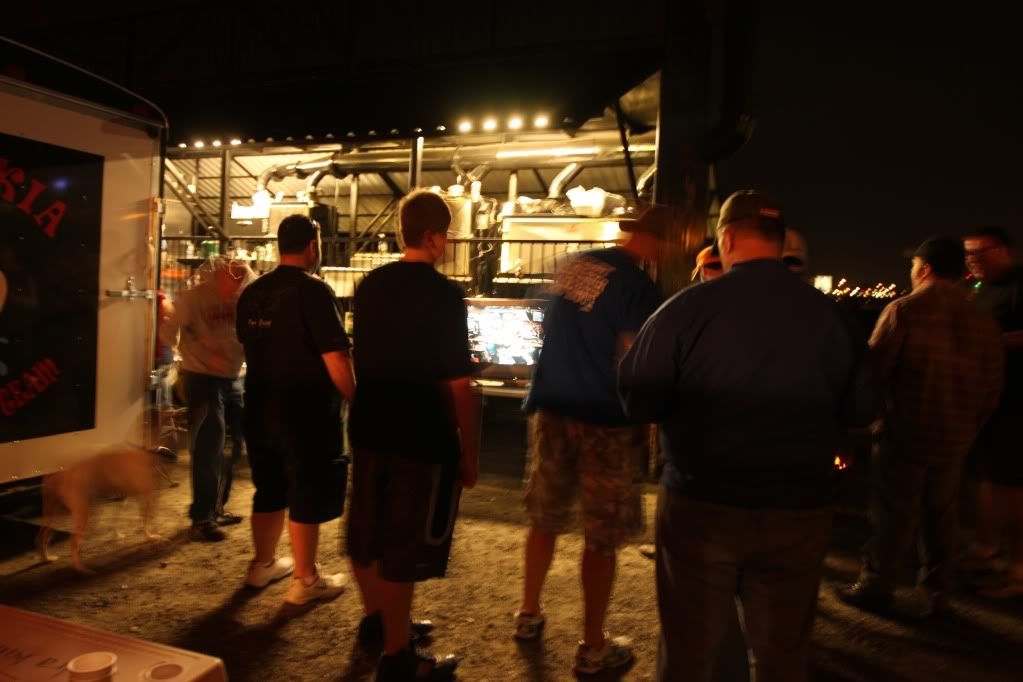 On Saturday morning I ended up boiling some water with my charcoal starter so I could get my
aeropress
going. Once I had my coffee I could start my day. Everything started smoothly and the only that really went wrong with my cook was that I ended up a little ahead of schedule. Being a little anxious, I started the ribs and chicken a bit early and it may have ended up costing us a few spots since I had to hold them until turn in time. Everything went smoothly with the turn-ins thanks to our official team walker, BP and the spotter, Peter. As always, the Mrs. made some pretty boxes and the presentation scores were all perfect 9s with a few 8s.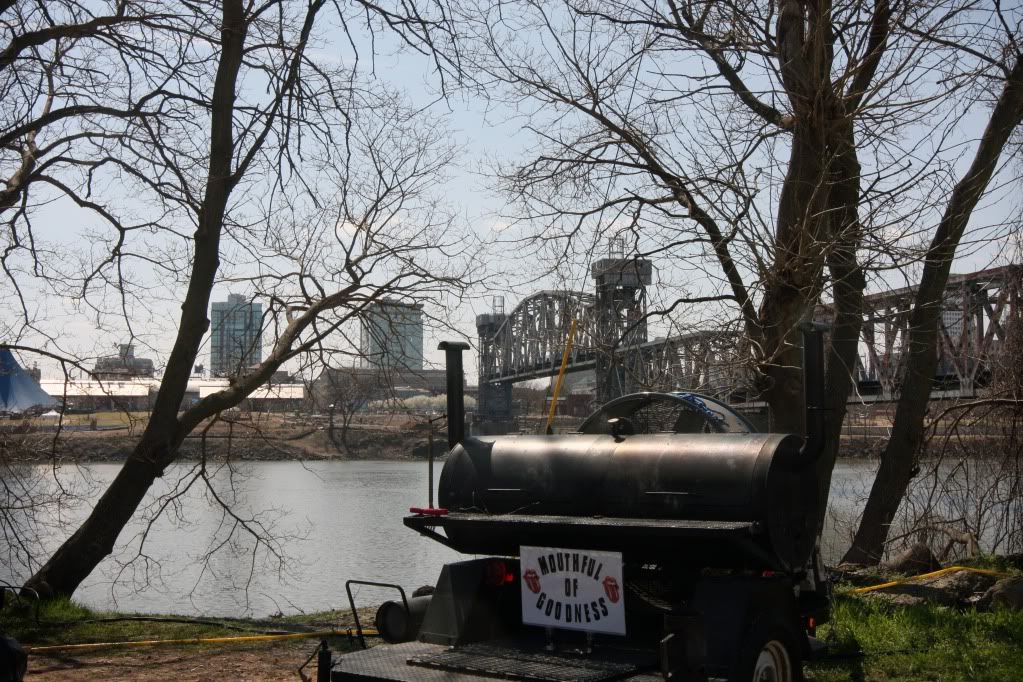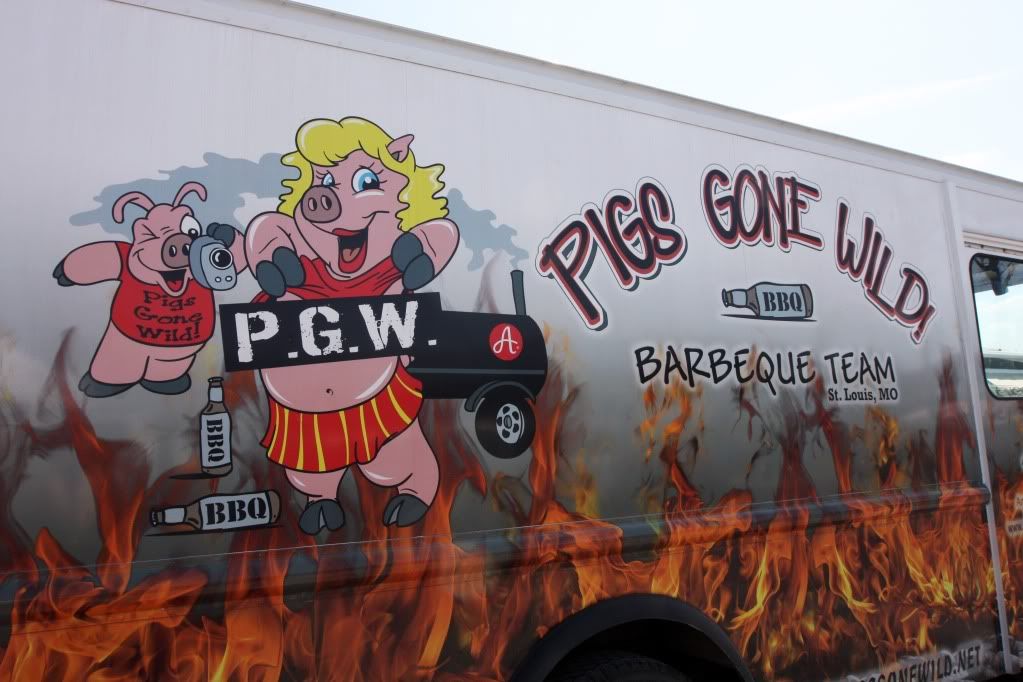 Luckily the rain held off until we were packed up and ready for the awards. We sat there hoping to hear our name called in a tough crowd of competitors, but it was just not our day.
With 227 teams competing this is how we finished:
Chicken 92nd
Ribs 139th
Pork 65th
Brisket 98th
Overall 90th
Even though we finished 90th, we actually had our highest overall point total. So we have some positives to take away from the weekend. All in all I had a great time in North Little Rock and I look forward to cooking there again sometime. Ron Cates has already announced that the prize pool will be bigger next year.
Congrats to Rod & Sheri Gray of
Pellet Envy
for taking home the
oversized check
for Grand Champion and
two more trophies
to add to their collection.
Tuffy Stone of Cool Smoke
finished as the Reserve Grand Champion with a 1st place in ribs.
Middle Tennessee was well represented with The Long Dawgs taking 13th overall (that new Jambo is working out nicely!) and High on the Hawg placing 16th overall.
I thought the best way to wrap this up would be to write just some general observations:
1. The banks of the Arkansas River is a nice place for a contest.
2. Japanese guys love $100 bills.
3. On the top floor of a hotel, you sacrifice water pressure for a view.
4. Little Rock is home to JoJo's BBQ (Peter bought me the t-shirt to prove it).
5. Rod and Tuffy can cook some pretty good bbq.
6. Little Rock has some jacked up road intersections.
7. People like BBQ Pitmasters
8. There are several new Jambo pits on the circuit as well as some knock offs.
9. Three 180s in Pork is crazy impressive.
10. Peter should have bet that team that we could beat them. Then we would have at least gone home with a little cash. Instead he bought a Vols win.
We will be competing again in about a month when we head to Winchester to participate at
High on the Hog
. <-- make sure you have the sound cranked up!