Today's Tuesday Taqueria takes us to El Tapatio. This is another restaurant/taco stand combo. The building is adjacent to an auto body shop, and the taqueria trailer sits in front of the restaurant with a smoker/grill along Nolensville Road. As with some of the other taquerias, as you pull up a car hop quickly approaches your car. On this day, the parking lot was pretty full and there were 2-3 car hops making the rounds taking orders.
I ordered tres tacos. uno pastor, uno lengua, and uno carnitas. The tacos were garnished with radish slices, a lime, and some red sauce.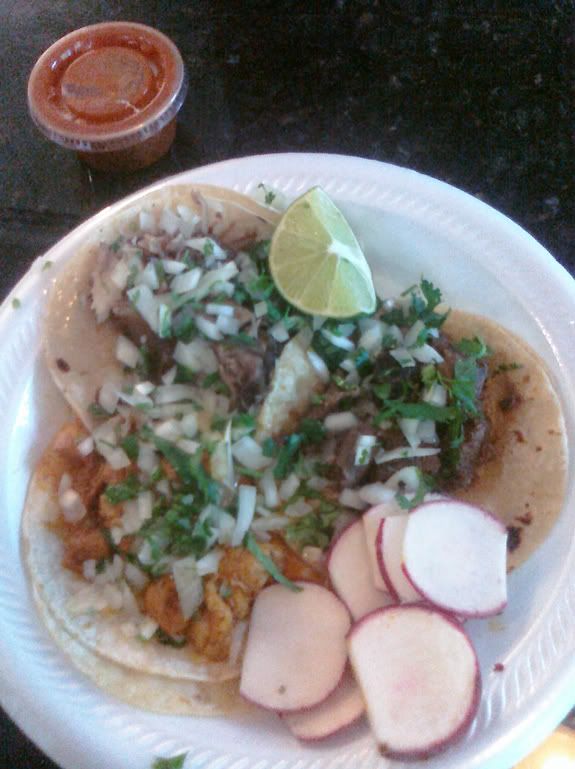 Taste
The pastor taco was pretty average. The pork was good, but it didn't have a wow factor. Pastor tacos are known for their citrus style marinade, and this one missed the mark with the lack of acidic character. 2.5/5
The lengua (tongue) taco was tender with a great texture. I know that some people may be turned off by the thought of eating beef tongue, but the taste is beefy and there is no strange flavor at all. 3/5
The carnitas was the best of the three tacos. The pork was plentiful and it real went well with the onions, cilantro, and red sauce. 4/5
Price
When the car hop gave me the total, I could not understand what she said. So I gave her a $5 and told her to keep the change. As with the other tacos I am sure they were somewhere between 99 cents and $1.50.
Friendliness
The car hop was very friendly even though it was very obvious that she spoke very little English. The biggest problem with this place is the lack of parking. 3.5/5
Cleanliness
All I have to go on here is the Tennessee Health Score for the actual restaurant. The
78 score
is not really strong, but I didn't get sick. 3.9/5
Overall El Tapatio is pretty good. I am a little turned off by the amount of lighter fluid that adorns the grill, but I guess it works for
Myron Mixon
, and it didn't seem to come across in the flavor of the meat.
View
Tuesday Taqueria
in a larger map