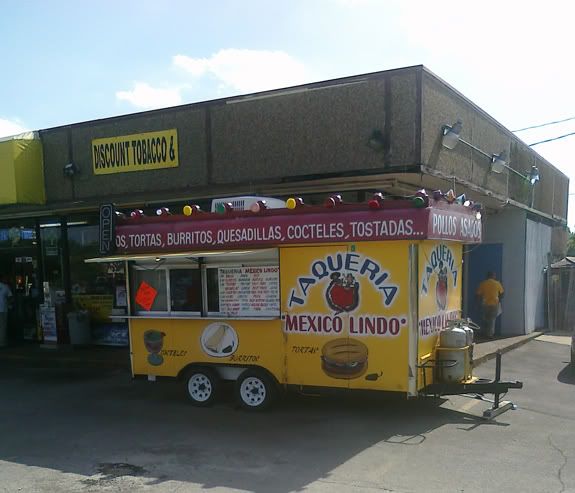 This Tuesday we head just slightly past the Tusculum Lanes bowling ally to the parking lot of a small convenience store. This is where we find the small taqueria Mexico Lindo. As with most of the taquerias, their version of a car hop makes her way to your vehicle as you pull in. However, I like to get out of the car and look at the menu while taking in the sights and sounds of the taqueria. The menu here is in both English and Spanish making it easy to order. Since we are ordering just tacos it is pretty easy anyway, but it makes it easier to get more adventurous and learn a little Spanish at the same time.
Here I ordered three tacos. Uno al pastor, uno barbocoa, uno asada. They came simply garnished with a lime and their version of a creamy guacamole sauce (not pictured).
Taste
The asada taco was pretty bland and again the guacamole sauce saved the day. I have begun to realize that you are not going to get great beef on a 99 cent taco, and without a flavorful marinade the asada tacos are a little lackluster. 2.5/5
The barbocoa taco was the worst of the three. It was small pieces pork swimming in a dark thick sauce that became over powering. This was my first barbocoa taco and I was very underwhelmed. I will have to try another taquerias version to see if they can sway my opinion. 2/5
The al pastor again was the shining star amongst these tacos. The marinated pork was flavorful and worth going back for. 4/5
Price
My three tacos were $3 total and a $1 tip for the car hop.
Friendliness
The car hop/waitress that took my order was extremely friendly. 5/5
Cleanliness
I did not experience any issues with cleanliness and the TN Health Dept. gave them a
90
.
Overall I have had better experiences at Mexico Lindo in the past, and if you ever need a quick snack before you start
throwing rocks
, the al pastor tacos are a good bet.
View
Tuesday Taqueria
in a larger map