I am on a business trip in Maryland this week. I don't travel that much for work and when I do it is usually to some very uninteresting places that are in the middle of nowhere. So, when I started to plan my trip to Maryland, I was excited that I would not have to eat at the local diner in bumfuck Alabama. Baltimore is known for its crab cakes, and I set out to find the best place in Baltimore for said cakes. I had recently discovered a website
where the locals eat
and I decided to take advantage of their rankings. This site recommended
G&M Restaurant and Lounge
for the "Best Crab Cakes".
From the outside, this is not a place that you would even think about stopping at...but that is why we trust the website, right? It was not that it looked shabby, but nothing about this place screamed "come on in for the best crab cakes." You can also see on the sign that the building was under some sort of construction. I came in with very high expectations, and while the paper place mats with advertising were somewhat buddy, I thought this was just part of the local charm.
I ordered the crab cake platter with two cakes. In hind site, I should have gone with just one. I'm just used to much smaller crab cakes. I was promptly served my crab cakes and they definitely passed the look test.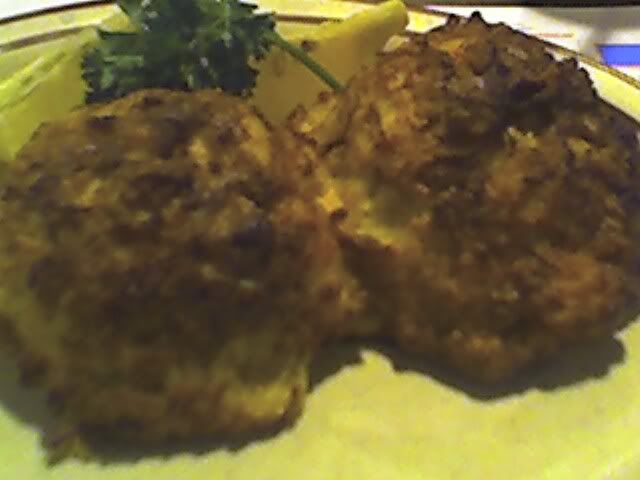 The cakes had a golden crispy outside and a nice soft crabby inside, but I was surprised to find that they were very
plain
. When I have had crab cakes in the past, they have onions, red peppers and various other ingredients. These cakes were loaded with crab, but I am not the biggest crab lover in the world...I just think that there is better seafood in the sea. The crab cakes were good, but I would not say they were the best I have ever had. I can see how a big crab lover would rank these high, but for me the other ingredients in crab cakes give them more flavors. I might as well have been eating lump crab with a little breading mixture. Maybe these are considered true crab cakes, and I can respect that. The final grade on these Maryland crab cakes is a 7.5 out of 10. My wife's crab cakes rank 8.5 and this just goes to prove my point that just about everything is better when it comes out of the Ulika kitchen.