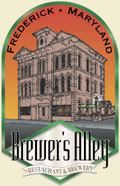 This was my first time to visit Frederick, Maryland or even Maryland period, and I have to say I was very impressed with Frederick. It's a very nice little town with lots of history and unique little eateries. My first night there I found a small local brewery called
Brewer's Alley
. I was still pretty full from the crab cakes,
(see Trip to Maryland Part 1)
so I just ordered some wings and some hand crafted brews. The beer was excellent. The wings...not so much. They were about what you would expect from a run-of-the-mill bar, but the beers were excellent. I somewhat rediscovered my love for microbrews and this may have inspired me to brew my own beer again. I have all of the equipment, but it has been almost two years since I last brewed a batch. Damn that is a long time. I think that while I have some time off over the holidays I might cook up a batch. Well, back to the brews at Brewer's Alley. Instead of opting for the sampler, I decided to pick and choose the beers I knew I would like. I started off with the Nut Brown Ale. This beer was very smooth and had a great flavor. Next up was the I.P.A. - this beer was very hoppy as are most I.P.As, and I would say that this one ranked right up there with some of the great I.P.As that I've had in the past. The I.P.A. is not my favorite, but it is a good change of pace. I then went with one of their seasonal beers, the Scotch Ale. The bartender was unsure of how this beer got its name because there was no scotch used in the brewing of this ale. This beer was served in a specially shaped thistle glass. According to their website, this serving method allows the beer to be held in the hand to warm up and release its aroma into the flared top-portion of the glass. Whatever. This was a pretty strong ale and reminded me somewhat of the
Sierra Nevada BigFoot Ale.
I finished my night off at Brewer's Alley with the Oatmeal Stout. It doesn't get much better than a good stout. Oatmeal Stouts can sometimes be a little too creamy for me, but this one was just right. With a strong rich flavor, it served as a great night cap. Overall, I would rank the beers at Brewer's Alley in the following order:
1. Oatmeal Stout
2. Nut Brown Ale
3. Scotch Ale
4. I.P.A