This is a twist on traditional Scottish shortbread that includes pecans and walnuts for added flavor. Still using the basic sugar/butter/flour dough (with startling amounts of butter used to "shorten" the bread), it maintains the original, crumbly texture.
What You Need:
- 1 cup of mixed pecans and walnuts
- 1 1/4 cups of all-purpose flour (sifted)
- 1 1/4 cups of unsalted butter (softened)
- 1/4 cup white sugar
- 1/4 cup of packed brown sugar
- 1/8 cup of raw sugar
- 2 teaspoons of vanilla paste (or pure extract)
- a little extra butter for the pan
- a dash of salt
What You Do:
1. Set your oven or Big Green Egg to 325 degrees and prepare your shortbread pan. For oven baking, you can use an 8-inch or 9-inch square glass or metal dish. For BGE baking, use a 9-inch diameter cast iron skillet on the plate setter. Line the pan or skillet with aluminum foil leaving a small amount to wrap over the sides. Generously (no really, very generously) butter the foil-lined dish.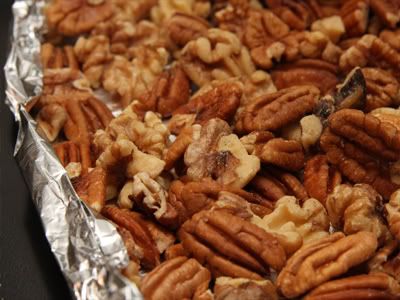 2. Lightly toast your pecans and walnuts in the oven, the BGE or over a grill - just until they are a little warm and golden. This just brings out the flavor.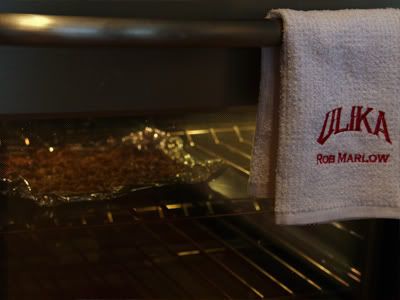 3. In your food processor, pulse the sifted flour, 1/2 cup of the nuts and the salt until the nuts are finely ground.
4. With a stand mixer or hand beaters, cream your butter together with the white and brown sugar for about 3 minutes. Add in the vanilla and then slowly add in the flour/nut mixture. Be sure to stop and scrape down the sides often so that everything is evenly mixed.
5. Evenly spread the mixture into your prepared dish or skillet. Sprinkle the raw sugar and the remaining 1/2 cup of nuts over the top and press it into the dough. Bake the bread at 325 degrees for 40 to 45 minutes until it is golden brown on top and darker around the edges.
6. Let the shortbread cool in its baking dish or skillet at first, then remove it by lifting the foil on each side. Let it continue to cool in the foil, then cool further on a wire rack until firm.
Cut the shortbread into small triangles and enjoy!