This past weekend was a trial run for a contest that we have in two weeks. It has been six months since our last competition and we needed to knock the rust off. I also needed to get the timing down with the Stumps and the Egg.
Surprisingly, I had no problems with my timing, but I was really off on my chicken and I will probably need to practice some more chicken before
Clarksville
rolls around. Focusing on the other meats this off-season has caused my chicken to slip a little. However, I should be able to hone in my chicken technique with two weeks left. I was pleased with how the pork turned out and the ribs and brisket were on par. I will need to kick it up a notch or two in Clarksville to get a call in any of the categories. We are really looking forward to getting back on the competition trail and seeing some familiar faces.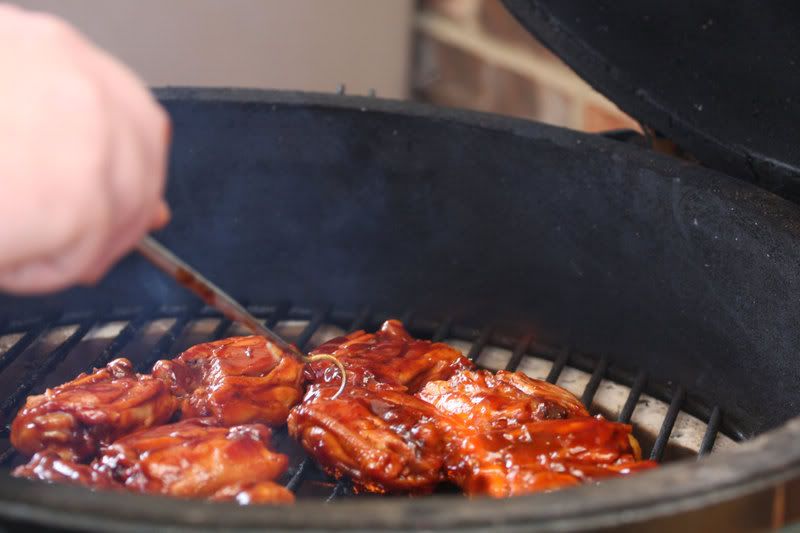 Kind of as an "anything butt" on Friday night, friends Patrick, Sarah and baby Jack stopped by to stir up some stir fry on the Egg. Patrick is an Iron Chef of sorts, and stir fry is one of his specialties. He brought over the wok and we fired up the Egg for a molten hot cooking surface. Our stir fry dish consisted of bok choy, mung bean sprouts, cabbage, shallots, broccoli, carrots, ginger, garlic and scallion for garnish. For our protein, we went with chicken and pork medallions that were tossed in some secret Asian sauces (which he left in my refrigerator...not so secret anymore!). Our starch choices were white rice, fried rice, and lo mein noodles. Check out the
Gilliam blog
for their side of the story.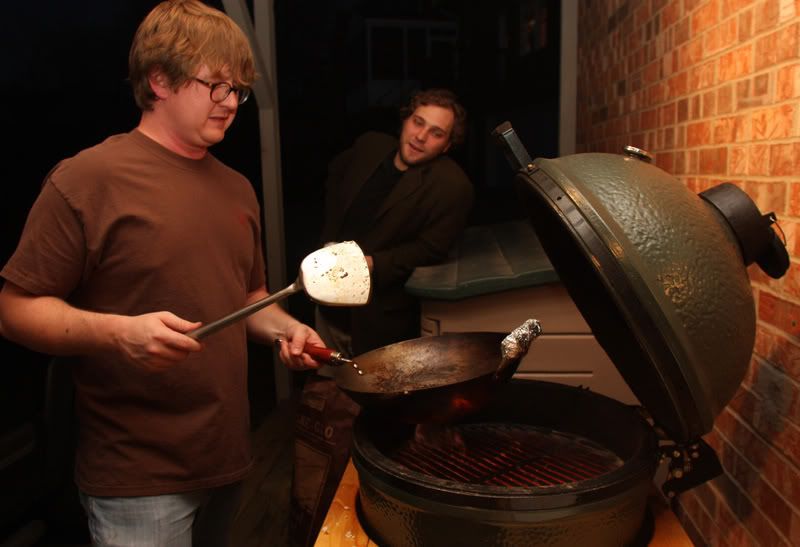 Iron Chef Patrick Gilliam cooks up some stir fry as Deezy eagerly awaits
My wife also took the opportunity to practice some dessert entries. On Friday night we were treated to a Bananas Foster. This dish was topped with a scoop of vanilla ice cream and while it was more than excellent, we decided that it wouldn't work with the time delays in a contest setting as the dish would be a puddle of cream by the time it reached the judges. On Saturday, the traditional dessert turn-in time was met with some Banana Pudding. In the south, you will often find this pudding as a primary dessert at bbq restaurants. Its smooth texture with the crunch of the Nilla Wafers makes for a perfect complement to the bbq meats.
Sarah
snapped a few pictures of the Bananas Foster prep, but by the time we reached for the camera on Saturday, the only pudding image that would have been left was that of Deezy licking the bowl.
When Sunday rolled around, I combined the best of both worlds and made brisket fried rice. It was absolutely fabulous. I have determined that brisket is the most versatile of the four competition meats (considering chicken is limited to the thighs). Brisket works great with eggs, in a taco, with fried rice, on pizza, in beans, with cheese and peppers on a hoagie, and in many more applications.