With the new Ulika setup (also referred to as Ulika 2.0), we headed to Clarksville last Friday morning. The forecast all week called for heavy downpours throughout most of the day and when we left the house, that forecast was holding true. Luckily, the rain subsided for about two hours just as we arrived, which was just enough time for us to get set up.
This was the first year for this event in Clarksville and it brought out some of the top teams from around the country. It was the first competition of the year for many of the local teams that we see at contests in this area, but some of the teams that compete in other areas of the country had already won contests this year.
To haul the Stumps, we rented an enclosed trailer. It was just a standard 12-foot trailer, but it served as a great shelter when the rain came back and was also used as a prep area. It is not as nice as what some teams have, but it is a big upgrade from Ulika 1.0.
Friday night, the butts and briskets went on and BP, Joe Baine and I hung out with our buddy Brockford Lee. We enjoyed a low county boil prepared by Wayne.
Thanks Wayne.
With little to do until Saturday morning, we went to bed early in order to get up early. This is one of the biggest advantages of Ulika 2.0. Sleep. I was able to get about 5-6 hours of sleep and awoke ready to prep the ribs and chicken and finish up the butts and briskets. One of the only things that went wrong this weekend was that I over cooked the pork a bit.
My wife came in on Saturday morning and did a wonderful job prepping our boxes. She is definitely one of our secret weapons. I never have to worry about a presentation score, because she can cover up any little flaw that I may have caused. Peter arrived on Saturday morning as well and brought back Brock as Joe's substitute to help out.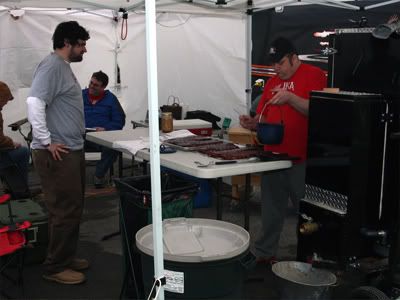 On to the awards. There was a nice pavilion at this event and they were very to-the-point when it came to announcing the winners. Chicken was first up. When they called out Ulika for first place, I just couldn't believe it. My first big goal for Ulika was to win a category and we had just accomplished that in a stacked field of cookers. It was such a great feeling. Our chicken scored a 175 which is just 5 points away from a perfect score! Ribs and pork were announced with no calls to the stage for Ulika, leaving brisket last. I felt really good about our brisket and felt that it was top 10 material - and we ended up taking third place (our highest brisket finish). Lastly, they began to call out the top 10 overall finishes. Receiving these 2 top 3 calls, I felt that we had a good chance of being in the top 10. However, when they got past 5th place overall, I figured that we must have bombed in pork or ribs or both. Just as I was saying that, we got called for 3rd place. We were overwhelmed to say the least. We have worked very hard to get to this point and we know that we still have a long way to go, but it was a very exciting finish.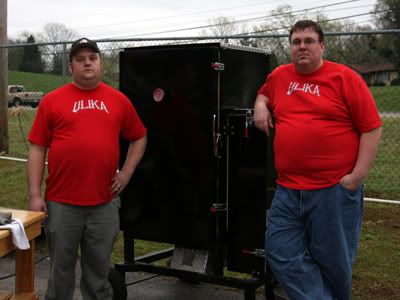 Over the weekend, we also made a new friend. If you're a reader of this blog, you may have read about Blues Hog BBQ Sauce. Well, the man behind the sauce, Bill Arnold, was cooking right next to us. As Bill started to set up, we realized who he was and introduced ourselves. Bill cooks by himself (with his 3 daughters) and has won many awards for his cooking and his sauce. Check out his website:
Blues Hog BBQ
Bill is one of the greatest characters that we have met on the BBQ trail, and I hope to run into him again sometime soon. He even gave us the prototype for his new Raspberry Chipotle Sauce.
For a first year contest, the folks in Clarksville did a great job. Once again, Ron Harwell came through strong and lived up to the title of greatest rep in the south (and favorite rep of Ulika).
Adding to the success of Ulika 2.0, we finally finished a contest in the black.