The 21st Annual High On The Hog Tennessee State BBQ Championship
Winchester City Park, Franklin County, Tennessee
April 18-19, 2008
This was the third year for Ulika to head into Winchester, the home of the team's competitive debut in 2006. Always a favorite and nostalgic event for the team, High on the Hog regularly brings out some the country's best competitors. With the loss of Fred Gould (the much loved and highly respected original Winchester contest rep), there was certainly sadness around the event, but there was also great excitement as the field was stacked with 52 teams ready to compete in the traditional four meat categories along with the "Creative Sausage" (sponsored by
Wampler's
), "Anything But" and Dessert ancillaries.
High on the Hog is a larger scale event as it includes a Kids-Q competition (watch for future
Jr. Ulika
domination), a live band on Friday night (watch for a full report from BP), a field of local vendors and a full scale carnival complete with midway games, rides and the all important
carnival food
. This year, the weather was much better than it had been in years past as a few brief hours of rain on Friday night were nothing compared to the biblical downpour that took place for three days straight in 2006. It was mostly sunny and warm with a little wind, and all in all a nice weekend.
Ulika was thrilled to receive its highest number of stage calls this year, taking
5th Place in Chicken
,
9th Place in Ribs
,
7th Place in Brisket
and
7th Place Overall
.
Congratulations to
Grand Champion Bareknuckles BBQ
and
Reserve Grand Champion Team Bobby-Q
! Visit the
KCBS High on the Hog Event Page
to view the full results.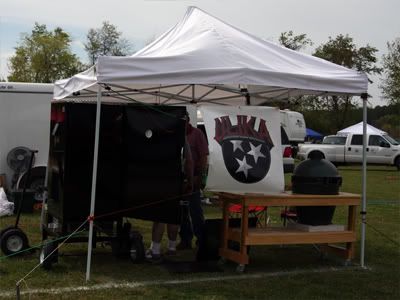 Winchester 2008: Ron Harwell visits the Ulika tent to check out the Stumps.
finishing the chicken
sampling pork pieces
pulled pork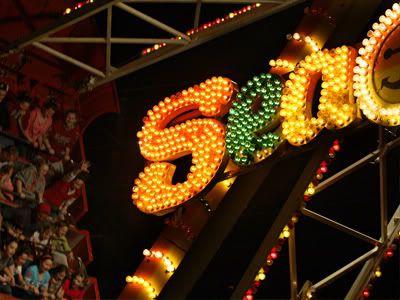 the "Sea Ray" pirate ship ride
the spinner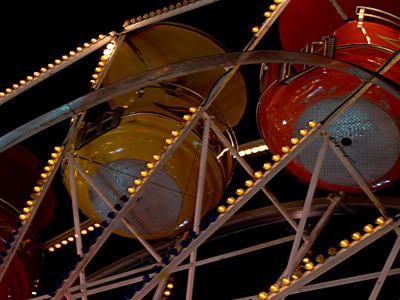 the ferris wheel
Despite the ever-attentive ride operators and that comforting accreditation by the West Virginia board of amusement and thrill rides, team Ulika members chose not to ride any of the attractions.
Congrats to Team Bobby-Q on Reserve Grand!
Congratulations to Wade and the Scenic City Smokers on that first place finish in pork! What a way to debut!
We're pleased to own our first HOTH cutting board - a few particular Ulika team members have coveted these for three years now.