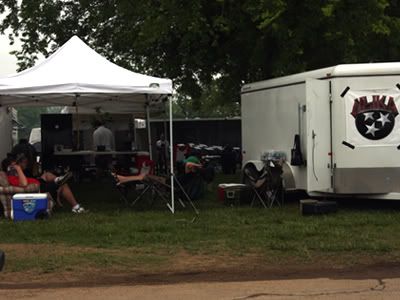 Pulaski was not kind to Ulika last year. We were coming off of a strong performance in Winchester and got highly disappointed when the awards rolled around. Well, this year was no different. Coming off of strong finishes in both Clarksville and Winchester, we did not fare so well in Pulaski.
For the second year in a row, our pork finished D.A.L. (dead ass last). We felt like it was probably the best pork we had turned in all year, but the judges did not agree. Our chicken and ribs did not do much better. We have been doing pretty well with chicken this year and while it may not have been our best effort, it was still pretty solid. The strongest aspect of our chicken has been tenderness and that was what ended up hurting us. As for the ribs, I just never know with the ribs. It is the one category that I can just not figure out. In KCBS competitions, they tell you that a fall off the bone rib is overcooked. What you look for in a perfectly cooked rib is to bite into the rib and pull away without pulling all the meat off the bone. The couple of times that we have been able to accomplish that, the judges still kill us on tenderness. I just can't seem to get a 9 on tenderness for ribs to save my life. Maybe I should just start boiling the ribs.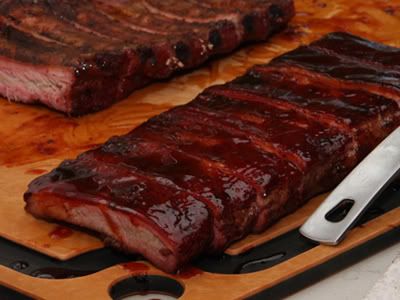 The bright spot of the weekend was our brisket. We took fourth place in brisket and we have been in the top 10 for brisket in all of our contests this year. We also received a nice trophy with a SunDrop bottle. If you are not aware, SunDrop is the official drink of team Ulika. so, a trophy with a SunDrop bottle is a very cool prize for us. If you are a SunDrop drinker, you also know that the bottles are much more preferable over the cans. The glass bottles have real flakes of citrus that make it a more enjoyable experience. Now, all I have to do is keep Peter from drinking the trophy.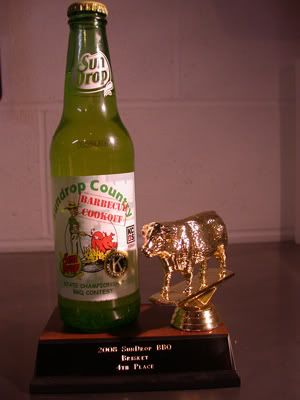 Now team Ulika will be taking a hiatus while we await the arrival of the newest team member, JoJo Marlow. Our next competition is scheduled for June 27-28 in
Lawrenceburg, TN
.