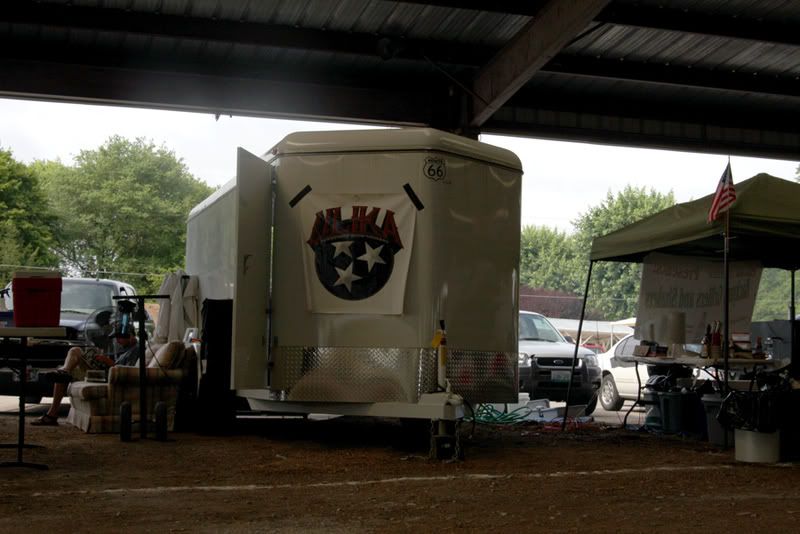 This last weekend we participated in the
AT&T State Championship Cook-off in Lawrenceburg, TN
. This event has now become one of our favorite places to cook. We were able to get a nice shaded spot underneath a pavilion that made the 90 degree heat bearable. Peter and I arrived at the site on Friday morning, got the trailer parked and prepped our big meats. Once everything was setup, I wondered around the grounds until the cooks meeting.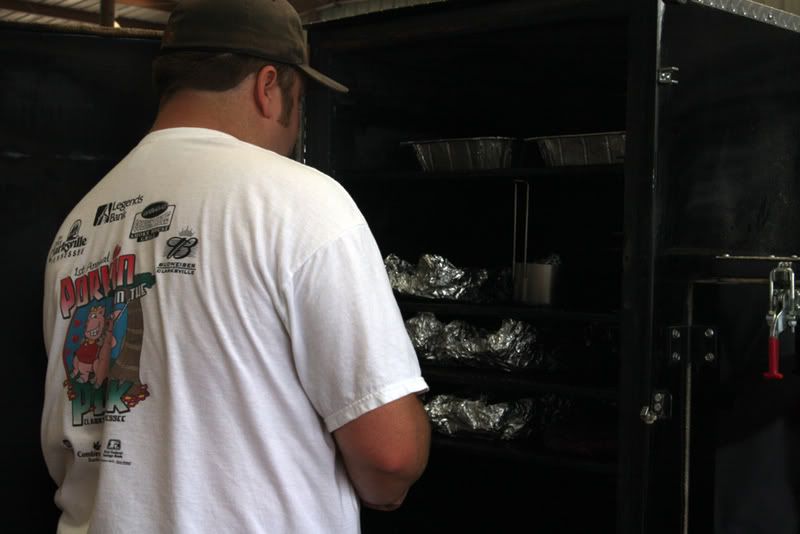 Soon after the meeting was over we put on our butts and brisket for the overnight cook. In years past this would have been a start to a long night, but with the Stumps, we just let it roll as we sat back and relaxed. It had been a while since I cooked on the Egg, so I grilled a whole tri-tip for BP, Peter and I to enjoy for dinner. Later on I caught some sleep on our now infamous couch. That's right, we take a full size couch to competitions. It is something that BP started at our home town contest in Nashville last year, and he has been bringing it ever since. It is sure to get plenty of comments at every contest we attend.
The morning started out great and we were not rushed at all getting our boxes together. This was probably the smoothest turn in that we have ever had. I think that we have finally developed a system that works and it made for lower stress levels at our site. Once everything was turned in, we packed up and awaited the awards ceremony.
For the second contest in a row our brisket took fourth place. That makes four calls in four contests for our brisket this year. However, we are still chasing that first place brisket. Now if I could just get that consistent in the other categories we would be doing pretty good.
The biggest surprise of the awards was that we won the sauce category. Normally the only ancillary that we compete in is dessert, but when they were delivering our turn-in, boxes Tana Shupe gave me a sauce cup. I said, "well I guess I will turn in a sauce since you gave me a cup." I didn't think too much about it until about an hour before the sauce turn in. I just got in the trailer and made up a little concoction. I added a little of this and a little of that until I thought it tasted pretty good. We turned it in and proceeded to joke about how it would be funny if we won the sauce category. Well we won.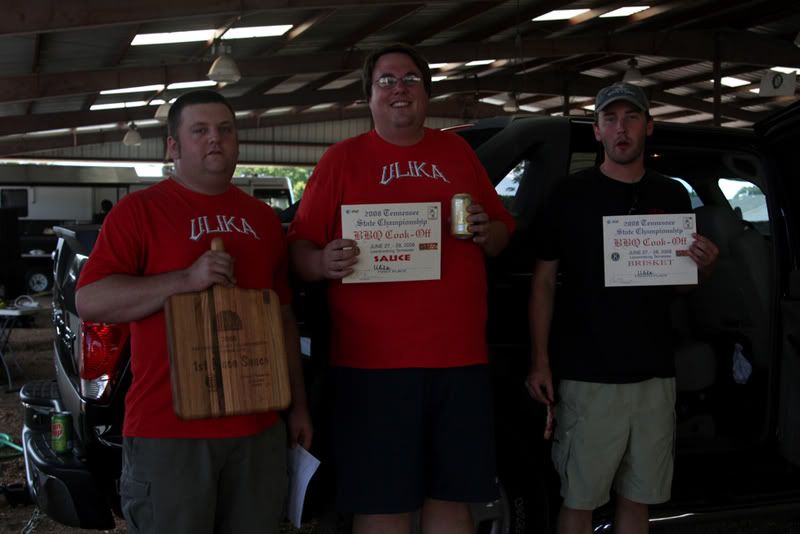 Overall we finished 21 out of 43 teams. It is not where we wanted to be, but at least it was an improvement from Pulaski. We had a great time in Lawrenceburg and got to meet some new people. I was especially glad to meet Rub from
Swamp Boys
. Rub is a fellow Stumper and is actually a Stumps dealer in Florida. He also knows a thing or two about cooking...he is currently the number one team in the Florida Barbecue Association. Congrats on the third place finish, Rub (1st place chicken and 1st place brisket). We also met Kevin from
The EGGseQuetive Council
. This is Kevin's first year competing on his own and had a strong fourth place finish with a 1st place pork. To no ones surprise, Byron Chism of
Buttrub.com
and Mike Davis of
Lotta Bull
took first and second overall.
Well, now that the heat of the summer is upon us, we are taking a couple of months off. Our next scheduled competition is September 5-6 in Cookeville, TN. I am going to be judging the Lebanon, TN contest in August and I feel that should give me a little more insight to the other side of the table.