Team Ulika closed out the bbq season with a contest in Cookeville, TN. This was the 19th year for the event put on by former KCBS president, Tony Stone. Tony started this contest as a hamburger cookoff at Tennessee Tech. Now, 19 years later, it has developed into a very fine KCBS event that coincides with the city's Fall Fun Fest. The weekend festival featured bands**, inflatable games, local interest booths and craft vendors. There were the standard festival food vendors as well as an Indian food vendor which seemed strange in a small Tennessee town festival.
BP and I arrived on Friday morning and eased into our spot just north of the town square. The other teams were scattered about in a large parking lot and along the city streets. We were next to The Dead End Society, who had just received an invitation to The Jack. They won the Cookeville event last year and got drawn as a wild card. We also caught up with our friends at Team Bobby-Q. As they were visiting with us, I realized that I had not brought any lump charcoal for my BGE. Luckily, Bobby had packed an extra bag and they hooked me up big time! Bobby-Q had also just been invited to The Jack and we look forward to seeing them in Lynchburg later this fall.
Later in the evening we enjoyed some margaritas and food provided by Paul of BigBriq.com. Paul works in the liquid smoke business and as one of the factories is near Cookeville, he had several people out to enjoy some bbq and drinks. Paul also sells and markets some of the best charcoal around. His Big Briq charcoal is a lump briquette that burns clean and has no artificial binders. It is the prefect charcoal for my Stumps gravity feed smoker.
** Note: The only problem with having "slash" events (i.e. KCBS cookoff / fall fest) is the inevitable obstacle course through which one must maneuver in order to turn in the meat. During this Saturday's turn-in, BP (always the team walker) had to wade through an inflatable laser tag arena, a skate park and...a death metal band. Yes, death metal. Yes, at 12:00 in the afternoon. Yes, at a street festival in downtown Cookeville.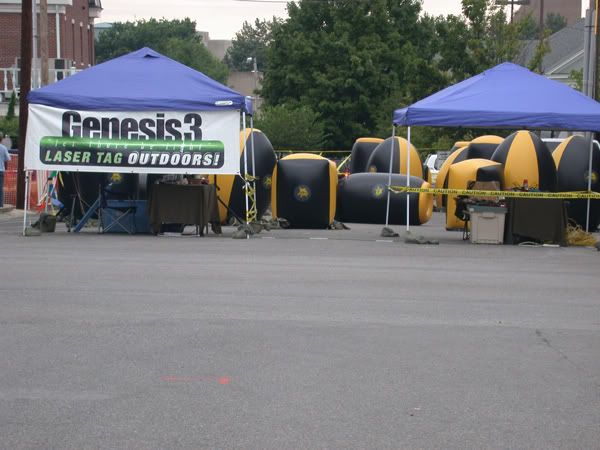 When the awards rolled around, we got calls in three of the four meat categories. We were most excited about our 7th place pork. We had not received a call in pork all year and it had been our strongest category in 2007. So, seventh place felt pretty good. Speaking of seventh place, that was our overall finish as well. We were very excited to finish in the top ten after not competing for two months. This was our last event of the year, and we are already making BIG plans for next year. I will post a season recap sometime soon.....