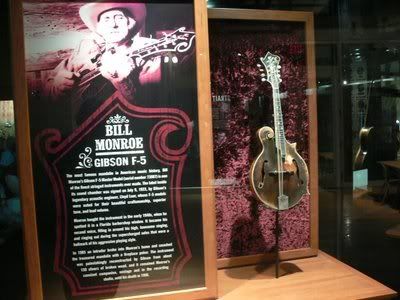 This week, I bring you the sounds of Bill Monroe. Mr. Monroe, who is considered to be "The Father of Bluegrass Music", is the only musician that is a member of four Halls of Fame (The Country Music Hall of Fame, The Rock and Roll Hall of Fame, The International Bluegrass Music Association Hall of Honor, and The Songwriter Hall Of Fame). He first came into the national spotlight on the stage of the Grand Ole Opry in the early 1940s and he continued to play bluegrass music up until his death in 1996. His music has influenced thousands of musicians in all
genres
. Even folks that don't care for bluegrass music can respect the life and career of Bill Monroe.
One of the most interesting things about Mr. Monroe is that he played the same mandolin for the majority of his 50+ year career. It was a 1923 Gibson F5 master model mandolin signed by
Lloyd Loar
. It is one of only 200 F5 mandolins signed by Lloyd Loar. In 1985, a home intruder smashed the famed mandolin into several pieces. All of the pieces were then gathered up and sent to Gibson where they had their specialist repair the instrument back to mint condition. After the instrument was returned to Bill, he continued to play it until he passed away.
More recently, the mandolin has been the center of some
controversy
involving a Ponzi scheme organized by the late Robert McLean. As part of the whole scheme, McLean made some large donations to the Country Music Hall of Fame - one of which was the purchase and donation of the F5 mandolin. When McLean passed away and the scheme unraveled, the duped investors wanted to collect the 1.5 million for the mandolin from the County Music Hall of Fame. The latest information I've been able to find on this issue still lists the lawsuit as ongoing, but the mandolin still rests today in the CMHoF (pictured above). When I visited the CMHoF a few years back, I thought that the F5 mandolin was one of the coolest things in the entire museum and I hope that the lawsuit ends up in their favor.
Without further ado, here is
Uncle Pen
by Bill Monroe