Special of the Week Tacos .99¢
This is the first installment of
Tuesday Taqueria
on the Ulika Food Blog. I had this idea sometime last year to review and
map
the all of taquerias along Nolensville Road in Nashville. If you have ever driven down Nolensville Road, you have undoubtedly seen the taco stands that dot the landscape. With so many choices it can be difficult to know where to get the best taco. That's where Tuesday Taqueria comes in. Starting at the intersection of OHB and Nolensville, I will trek North in search of the greatest Taqueria the south side has to offer.
For the purpose of these reviews we will only be focusing on the tacos. Most of these places offer a full menu, but we are just concerned with what they all have in common and that is tacos.
I will using the following criteria to review the taqueria:
Taste

- Isn't that what it is all about? I generally get three tacos and I will rank the taste of all three on a scale of 1-5. With 5 being the highest possible score.

Price

- Who has the best deal? Are those tacos really just .99¢?

Friendliness

- Let's face it, I am the minority here and I no speaka the Spanish. So if I have a negative experience I will be sure to let you know.

Cleanliness

- When it comes to mobile food carts, I realize that some people have a concern about the cleanliness. So I will let you know which ones have a perfect health score and those that could use some work. Keep in mind that there is competition all up and down the road, so if a business is not putting out a good product, they wont be in business long.

As I start my journey North along Nolensville Road, it doesn't take long to come to the first taqueria.
Tacos Y Mariscos Lopez no. 1
is located right past the Lowe's and Auto Latino on the east side of the road. This establishment actually has a free standing building that looks very much like a converted house with a not-so-mobile vending unit that sits out front.
As you may have gathered from the name, there is more than one
Tacos Y Mariscos Lopez
in town. I was able to determine that there are at least six locations making this a little local chain. While for the purposes of these reviews I am just eating tacos, it is pretty clear that I need to go explore the menu at
Tacos Y Mariscos Lopez
. While I was there they were pulling off very nicely grilled whole chickens and other
online reviews
speak highly of things other than the tacos.
On this trip, I ordered uno asada (beef), uno chorizo (Spanish sausage), and uno al pastor (marinated pork) taco. I always order my tacos with everything. This almost always constitutes raw onions and cilantro, and then other garnishes vary from place to place. In this case I received some grilled onions, cucumber, lime and a red hot sauce.
Taste
The asada taco was pretty run of the mill. In this case the grilled onions and the hot sauce really kicked this taco up a notch. 3/5
The chorizo taco had great texture and a really great flavor. 4/5
The al pastor taco was good as well. You could really taste the citrus component in the marinade and it worked really nicely with the cilantro. 4/5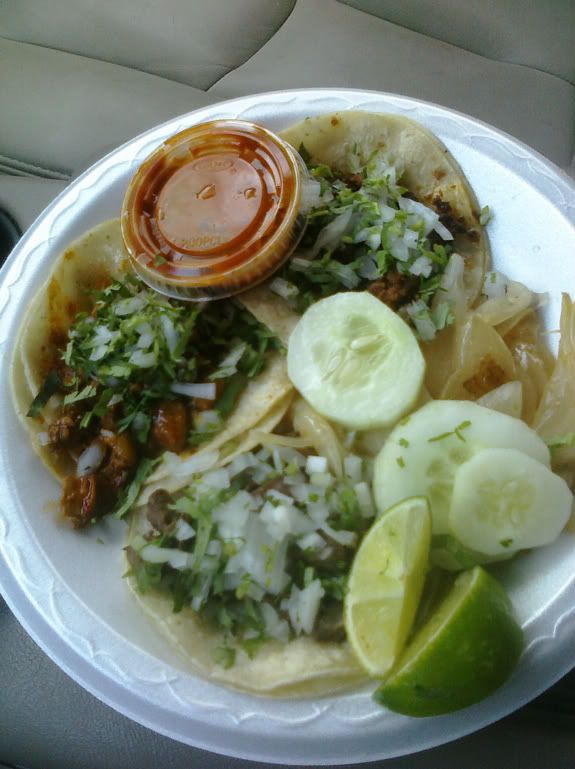 Price
As you can see from the picture on the top, the tacos were on special this week for .99¢. The menu price is $1.25 and they do charge tax. I also generally tip $1 to the car hop / waitress. My total with tip was $4.30. So in reality, the tacos are $1 plus sales tax.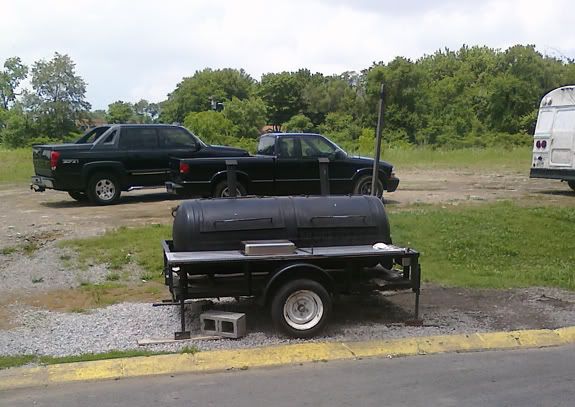 Friendliness
I had a great experience at
Tacos Y Mariscos Lopez no. 1
and I did not feel unwelcomed. 5/5
Cleanliness
One thing that stood out was that the pit that the meat was coming off of seemed very clean. I also had a direct view inside of the trailer and everything seemed in tip top shape. The Tennessee Health Inspection score:
98
and I give it a 5/5.
Overall I would recommend the tacos at
Tacos Y Mariscos Lopez no. 1
and I really look forward to getting back there to try one of those whole chickens.
View
Tuesday Taqueria
in a larger map