Long, long ago, in the first years of the festival on the farm (circa 2002 - 2003), the hippies roamed the rolling hills of Manchester with their dreadlocked hair, their patchwork clothing, their hula hoops and their handmade signs advertising "free hugs" hanging from the open back of their vintage minibuses. In addition to their random drum circle formations, they organized themselves in rows down Shakedown Street for post-show vending. You could grab a grilled cheese, a veggie quesadilla, the popular chicken bacon ranch wrap (man, that was
dank
), even semi-exotic bottles of beer brought from the different regions from whence the carpools came. Sure, there was no regulation or food safety inspection - you just couldn't look at the hands, or worse, the fingernails of your chef - but the food was hot, cheap and served with a smile. Goo balls and other heady treats were available in every variety, if that was your thing. Trades welcome.
Some festival goers bought the $7 funnel cakes and $6 corn dogs from the carny-style food vendors set up in the fledgeling
Centeroo
commons, but no one was going for their $3 bottles of water or $4 popsicles as every other car in the lot had a stocked cooler with your choice of $1 water, Gatorade, beer or 2-for-1 freezer pops. And while I'm sure the reasons that festival officials provided for the lock down on lot vending that began in the third year included buzz words such as 'safety' and 'cleanliness' - it was all about the green.
The lineup of bands grew more and more commercial with each passing year, and with the decreasing dominance of the jam and increasing crackdown on unlicensed vending (quickly eliminating not only their lot food, but also their sales of glass wares, posters, clothing, etc. that in many cases funded their travel from show to show), the strength of the hippie numbers was weakened. By 2010, I was walking down a Shakedown Street full of 100% commercial vendors.
As Bonnaroo, and most notably, Centeroo, has evolved over the years, the food offerings slowly expanded as well. The carnival food has remained (and don't think I'm dissing the genre - it's just not necessarily something you want to live on for four days), but the options have grown from all-things-deep-fried to include vegan burritos, chicken curry, southern BBQ, breakfast buffets, cajun delicacies, rice bowls, pad thai, pitas and more. Of course, after the $2,000 vendor entry free and hefty 25% to 35% cut by the 'roo (depending on the "complexity of menu"), the prices we're asked to pay are pretty gross. But at Bonnaroo, food is fuel. Spilling out of
That Tent
or
Which Stage
, you need sustenance, your camp is far away, and you unflinchingly produce your wallet.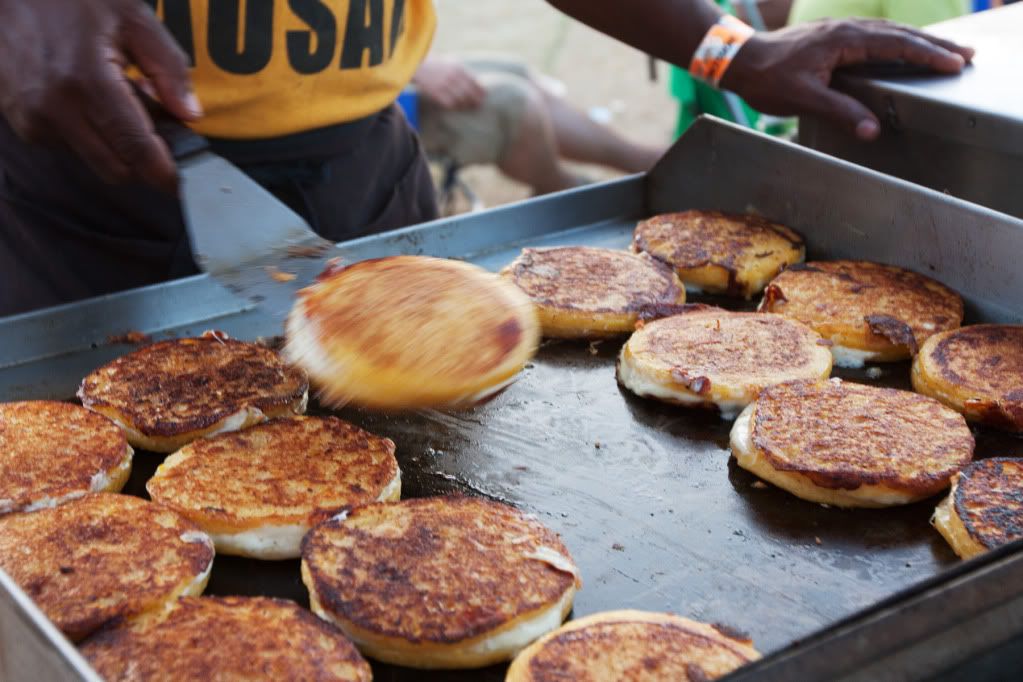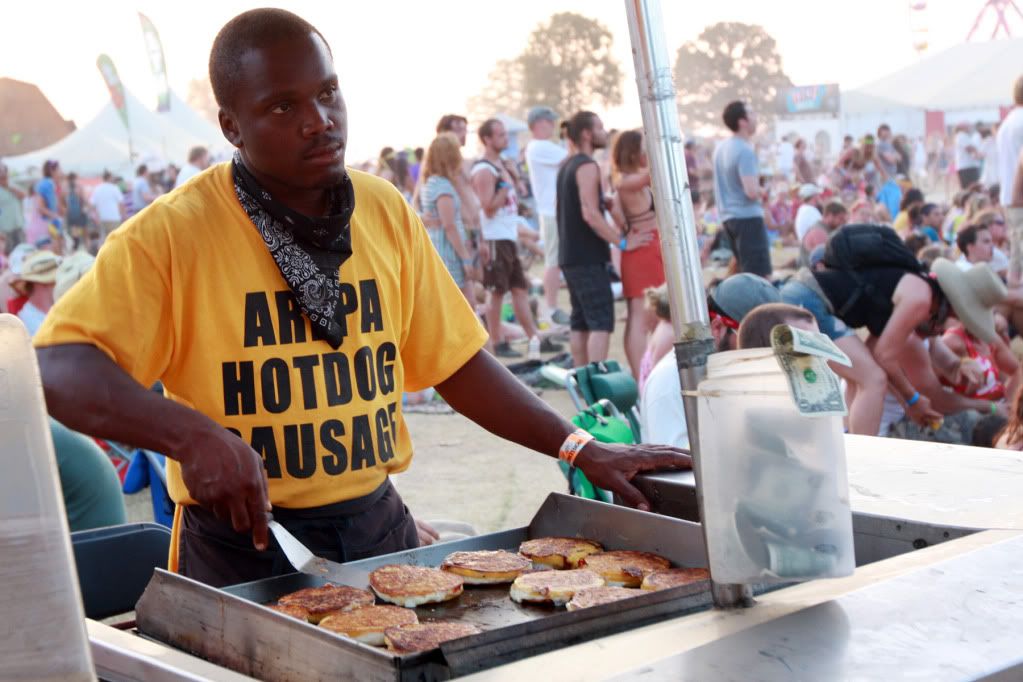 One of the more popular items this year was the
arepa
- a fried fat pancake made of ground corn, served with various savory toppings or used like a bun around sausage. The pizza tents tend to have long lines as well and 'rooers can get a hot slice from the well-oiled festival vending machine that is '
I ♥ Spicy Pie
' at several locations throughout the farm. In their second year to travel to Tennessee, the certified organic
Full of Life Wood Fired Flatbread Pizzas
out of Los Alamos, California was wildly popular too: they were sold out of everything except a few flax pizzas by early Sunday afternoon.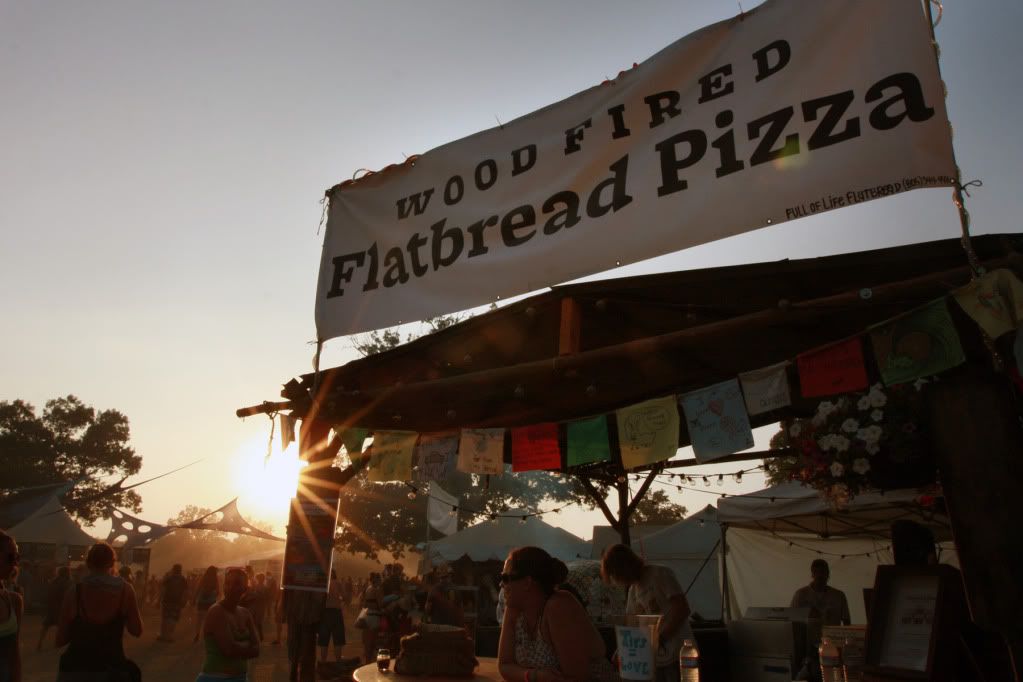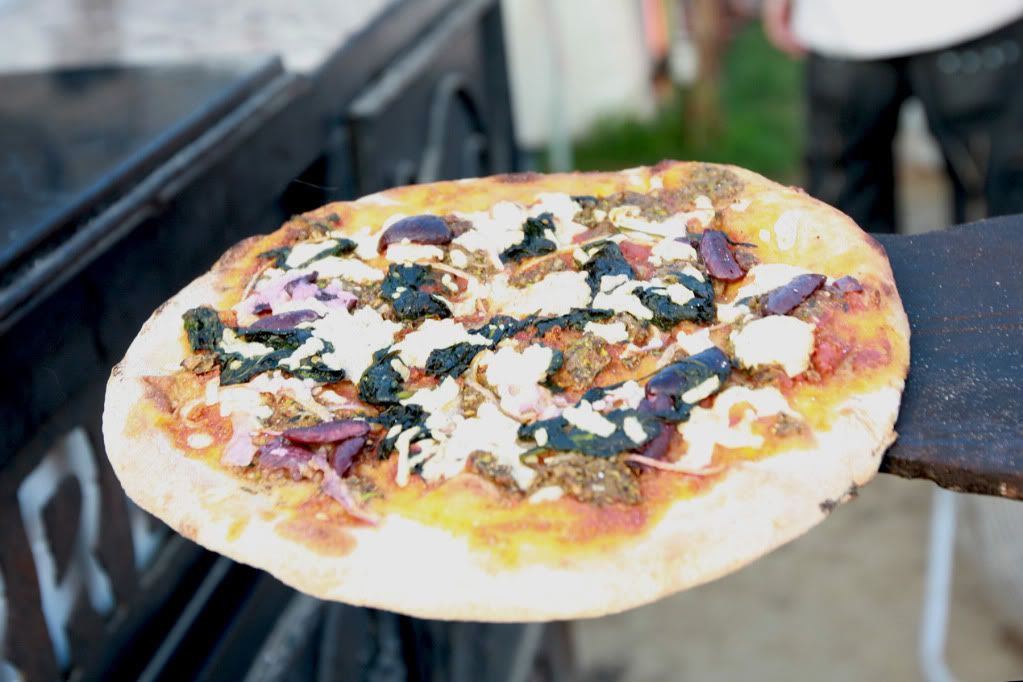 But this year, Bonnaroo further stepped up their vending game with the addition of the
Food Truck Oasis
. In a sneaky spot between
This Tent
and the water slides, the food truck caravan lifted their shutters and served a reported 12,000 dirty attendees each day. We honed in on the 1962 silver airstream trailer from Miami, the
gastroPod
, and ordered a crispy white corn arepa (with a poached egg and slaw) along with the
Sloppy Jose
- a brisket slider with espresso BBQ sauce. The
Taco Bus
, also from Florida, served authentic Mexican street food while
Good You
out of Kansas City had a hefty waiting line for their organic burgers. (On principle, I could not eat at an establishment that used the
Curlz
typeface for their logo.) Knoxville's own
Petro's
offered their tasty bowls of chili and chips while
Pot Kettle Black
out of Charleston, SC sold out of their soulful sandwiches, crafted to honor their "poor immigrant roots" with nods to Italian and French dishes. The truck with the most flava, if you will, was most certainly
Eatbox
- serving the world's "sexiest" gourmet meatballs with heaping sides of pun and innuendo. Their disco ball drew you in, but their meatballs (including the
Dirty South
grass-fed beef meatball with bacon and hashbrowns and the
Daisy Chain
eggplant-lentil veggie meatball) and organic handmade popsicles drew visitors back multiple times. Local all-natural Angus beef farmers
Bear Creek
set up their trailer as well (though not in the designated square - clearly an autonomous unit for mid-
Mall
snacking) to sell burgers.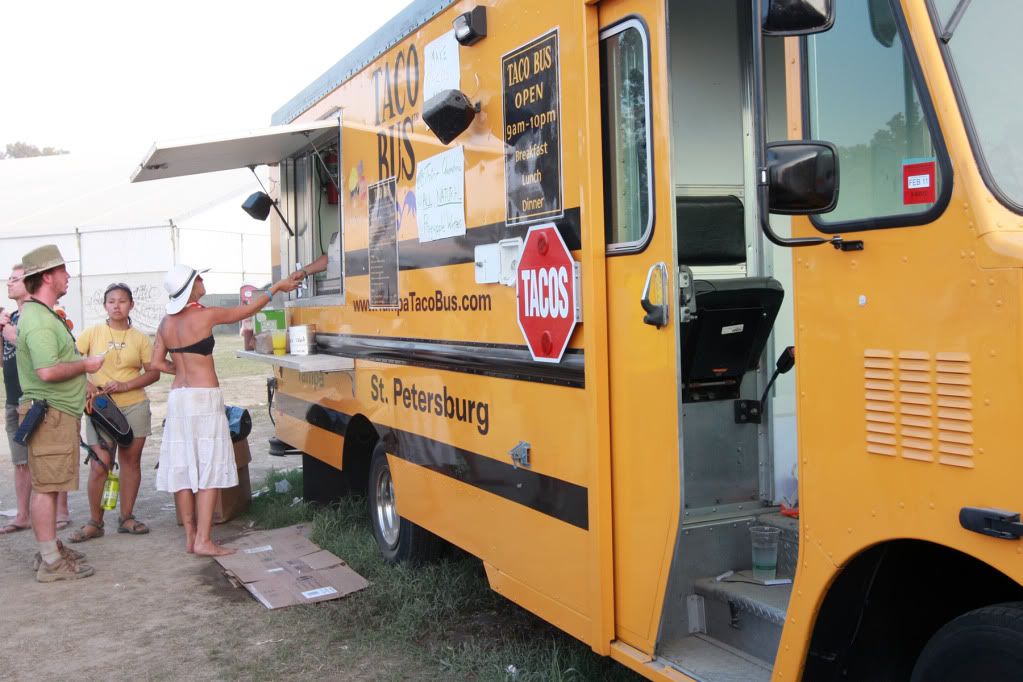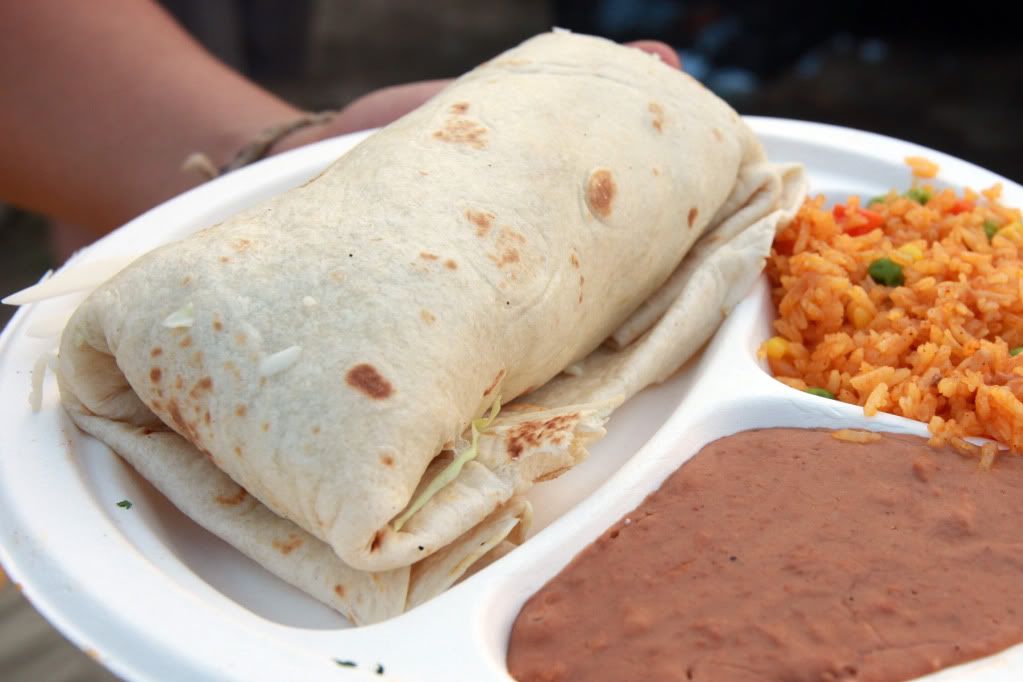 Always on the environmentally-friendly side, Bonnaroo brought back Planet Roo this year as well and offered a conscious eating experience at the 100% waste-free Planet Roo Cafe that offered fresh produce from Middle Tennessee (grilled sweet potatoes, baby spinach salads) along with higher-brow dishes such as pan-seared trout and pecan stir-fry. I couldn't get in the door with all of the people congratulating themselves for being in there.
I joke wichoo.
And Bonnaroo brought the beer this year as well with a Broo'ers Festival tent featuring 21 breweries including Nashville local
Yazoo Brewery
, Athens-born
Terrapin Beer
, Vermont's
Magic Hat
,
Brooklyn Brewery
,
Good People Brewing Co.
from Alabama, and Mississippi's
Lazy Magnolia
. Our beer of choice for the weekend was from the Virginia brewery
Starr Hill
- their
Lucy
,
Festie
,
Northern Lights
and
Amber Ale
varieties were served at no charge in the Artist's tent by the four hardest working men at Bonnaroo.
But let's face it, you don't go to Bonnaroo for the food. Like the rest of your life that you leave behind, your at-home eating tendencies, your all-organic grocery shopping and your general food snobbery tends to disappear the moment that you step onto the farm. The food is just another aspect of the evolving experience, getting bigger and more carefully crafted (for better or worse) each year. Try new bands, new products, new food, new realities, but what really matters is that you drink lots of water.
See you next year!