In north Nashville, off of Dickerson Rd and Ewing Dr, lies a little place called Prince's Hot Chicken Shack. Prince's is just one of Nashville's several hot chicken restaurants, but it is considered by most to be the measuring stick. I never really knew that Nashville was known for their Hot Chicken restaurants, until I saw some national publications that referenced the chicken. Watch this video by the
Southern Foodway Alliance
for a quick history.
When you enter Prince's, there is nothing fancy about it. There are a about 5-6 white booths decked out with some mismatched table cloths. Just like some of my favorite places (Dreamland BBQ in Tuscaloosa and Buster's in Murfreesboro), there is no printed menu. There is a letter board menu on the wall that outlines your options: breast quarter, leg quarter, half chicken and a whole chicken with a few choices for sides. Then you have to decide on the temperature. For the novice, there is the
Plain
option, after that you can graduate to the
Mild
, then if you are feeling pretty good, there is the
Medium
. For the traditionalist there is the standard
Hot
, but for the brave and mighty, they will serve it up
Very Hot
.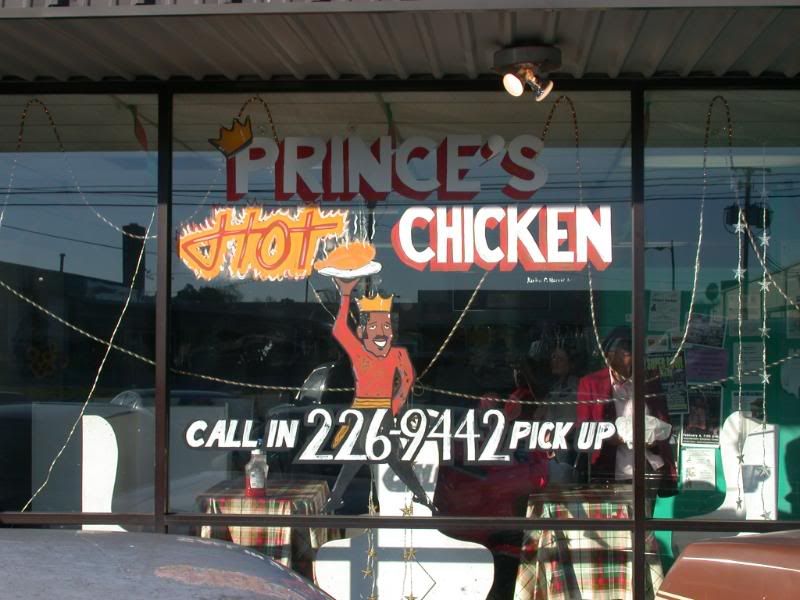 I ordered a
Hot
half chicken with some fries and, most important of all, a bottle of water. The best thing about this chicken is that it is made to order, fried in the most traditional way in a cast iron skillet. You can see in the image below that it is served with several pickles on pieces of white bread. The inclusion of the white bread is a nice touch as this absorbs some of the spices from the chicken and is a great complement.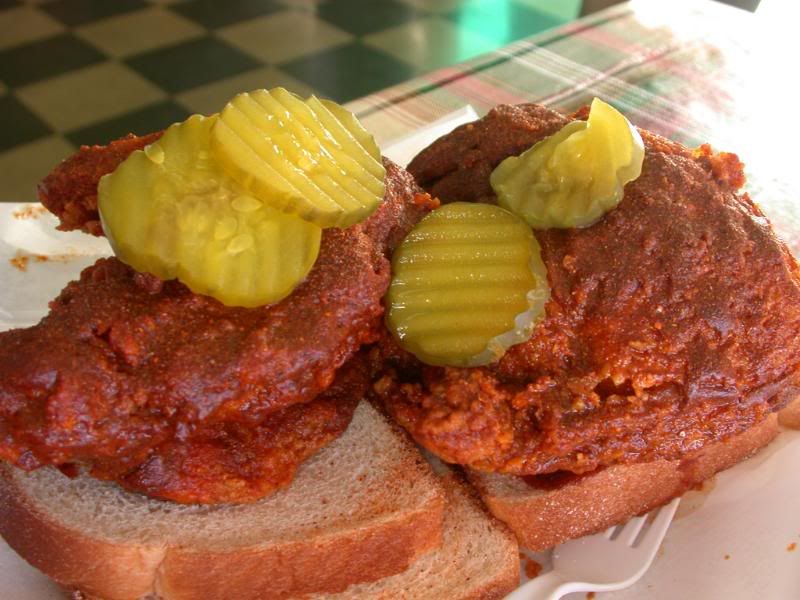 From the very first bite you can tell that this chicken is serious business. It is not only hot with spice, but also hot with heat.
I only ate half of my half chicken and I took the other half to go. Let me tell you, as this chicken sat for a little while, the heat really started to set in. The second half of the chicken, eaten a few hours later at home, was even hotter.
If you love it hot, and most know that I do, you will love Prince's Hot Chicken.
- UlikaBBQ
* * * * * *
You can call me a wimp all you want, but I'll still take mine "plain." Is that kind of like going to Ruth's Chris and asking for A-1 with your steak? Yeah, kinda, but hear me out. Spiciness has a way of dominating everything else in the equation. When you order your chicken with all of that heat on it, that's pretty much what you're going to taste. But if you strip away the heat, what remains is an absolutely perfectly fried piece of chicken - tender and juicy on the inside, crispy and delicious on the outside. Every bite is bursting with a perfect harmony of fresh and wonderfully complex flavors. Now why would you want to go and cover that up with a bunch of heat? But the bottom line is: if a reputation as the spiciest place in town is what's going to keep Prince's in business, then bring on the heat. This place is one of Nashville's true culinary treasures, whether you like it hot...or not.
-BP