Here are some pictures from the cook at Agave on Sunday. A big thanks to Cullen and the Agave staff for having us out - they sure know how to throw a party. Our bbq festivities did have to follow the midget wrestling that was on Saturday night (how can you compete with that?).
Peter made his famous peppers. Peter is in fact the king of peppers. We estimate that Peter has made more than 1,000 peppers in his short pepper making career.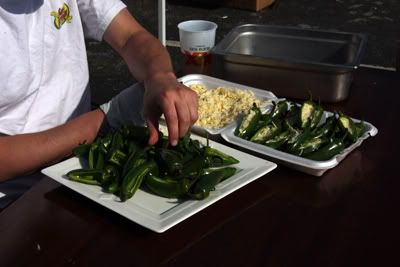 Peppers being stuffed with cheese.
Peter checking on the peppers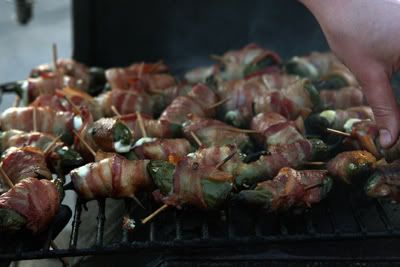 The finished peppers - stuffed with pepper jack and shrimp then wrapped in
bacon
The finished ribs
I was really happy with how the ribs came out. I had never cooked a rack of ribs on a Weber Kettle before and they turned out alright. The Weber was also pretty low maintenance. With the Big Briq charcoal that I was using, I only had to add some coals one time during a four hour cook. Oh yeah, and I guess we won the "competition". We beat out two other teams in our first ever overall victory!