After a quick shuffle on the ipod, some Wilco came pumping through the speakers. Of the bands that I listen to, Wilco floats into the mainstream a little more than the others. This band has had its ups and it downs much like the mood swings of lead singer Jeff Tweedy. He is the brainchild behind such great albums like
Being There
and
Summerteeth
, but he has also shuffled the band line up so much that the cohesiveness is just no longer there. The band's line up has changed so much over the years that you need a chart to know what is going on. (see figure 1-a) Because of this I can safely vouch for their first four albums (
A.M, Being There, Summerteeth, Y.H.F.T
), but I don't even own the others. I mostly like to pretend that they don't exist.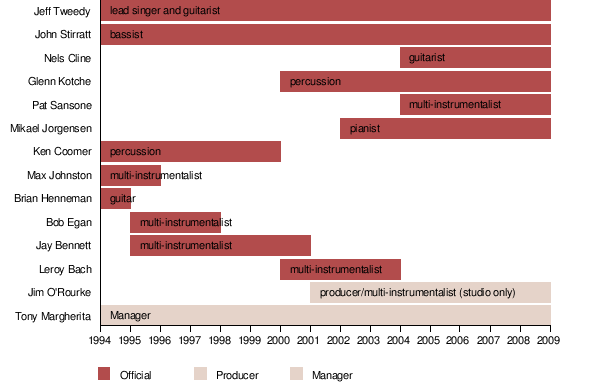 figure 1-a
I first saw Wilco live in 1999 at the first ever Nashville River Stages. The now defunct downtown music event was in its first year, and was the first music festival I had ever attended. Of course a few years later
Bonnaroo
came along and River Stages could not compete with a 500 acre field full of hippies, hipsters, and three days of
craziness
. Speaking of Bonnaroo, that was also the last time I saw Wilco.
Wilco - I'm Always in Love (Summerteeth)