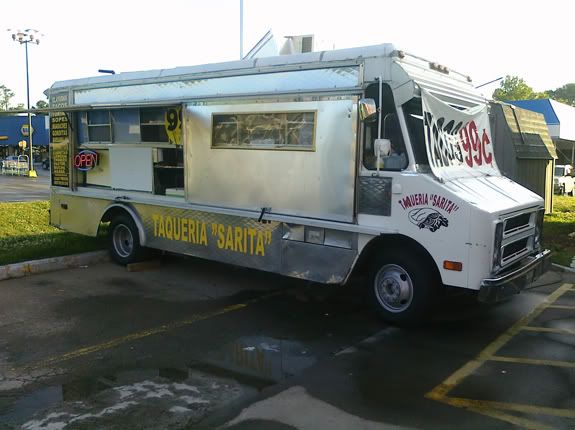 As I continue heading north on Nolensville Road, I begin to have other food options. Right past
Mexico Lindo
sits a Chinese Super Buffet (you know the ones with the glowing chicken). If you can resist that temptation, you are then faced with the challenge of passing up the
best restaurant in town
.
I tell my self I need to stay focused, and I begin to look to the east and west for my next taqueria. I thank my lucky stars that no one has taken up shop in the parking lot of the 21+ Video, but a little further north I found Taqueria Sarita in the parking lot of the Phillips 66. Sarita is most likely someone's name, but I failed to ask the woman working the taqueria if she was Sarita. So one can only assume.
This taqueria is an old delivery truck that has been converted into a concession type rig by what appears to be the work of the
A-Team
. When you pull up a menu is prominently displayed with several different classic Mexican snack dishes. Some of the choices include
clayudas
which is similar to a Mexican style pizza, an oblong masa dish known as
huaraches
, and a few of the classics like a burrito or a quesadilla. Of course what drew me in was the 99¢ tacos sign.
This weeks order was uno pastor, uno chorizo, and uno carnitas. These tacos were topped with a finer dice onion and a lighter amount of cilantro. A lime and a spicy thin green avocado sauce also accompanied the overflowing tacos on the plate. One thing that was very noticeable when I was waiting on my order was the smell of the meat warming on the griddle. The smells were very appetizing and they had me really looking forward to chowing down on some tacos.
Taste
The pastor taco is quickly becoming a favorite of mine. In this case the pork had a good flavor and was served a little crispy. I enjoyed the crispiness, but it did not stack up to some of the other pastor tacos that I have had on this journey. 3.5/5
The chorizo was roughly chopped and piled high on the corn tortilla. The spice on this taco was perfect and the onion along with the cilantro complemented this taco giving it a true authentic flavor. I give this taco a perfect score. 5/5
The carnitas err... asada tacos. While I ordered a carnitas taco the lady taking my order repeated my order and said "uno asada". I replied "no carnitas". Well wouldn't you know I ended up with an asada taco. In the
previous reports
I noted that the asada tacos are not my favorite, but this asada stood out from the rest. As with the other tacos on my plate, they did not skimp on the meat. I think that this is the first time that I actually had left over meat on my plate after I had finished my tacos. 4/5
Price
The sign visible from the road reads 99¢ tacos, but I saw a smaller sign when I pulled up that said asada & pollo tacos 99¢. The other tacos are $1.50. So my three tacos were $4. While the $1.50 is more than some of the competition, I would definitely say that you get your money's worth with the extra meat that is piled on your tacos.
Friendliness
Well no one is going to win points for messing up an order, and it seemed that they would rather have had pesos as opposed to American dollars. 3/5
Cleanliness
I could not find this establishment on the Tennessee Health Ratings, but I will give them the benefit of the doubt. 4/5
Overall I would say that Taqueria Sarita is a great taco truck. While they may not speak much English, they sure do know how to make some tacos. So if your friends insist on going to Bar-B-Cutie, try to steer them up the road to Taqueria Sarita.
View
Tuesday Taqueria
in a larger map